Did you know that 90 percent of Jordan is made up of desert? A visit to this vast stretch of sand is a must. Wadi Rum, often considered the most breathtaking part of the great Jordanian desert, is not to be missed. It is a protected area and has even been recognized as a UNESCO World Heritage Site. Wadi Rum is also the most accessible to tourists. So, look no further, check out our tips below and get ready to book your adventure today!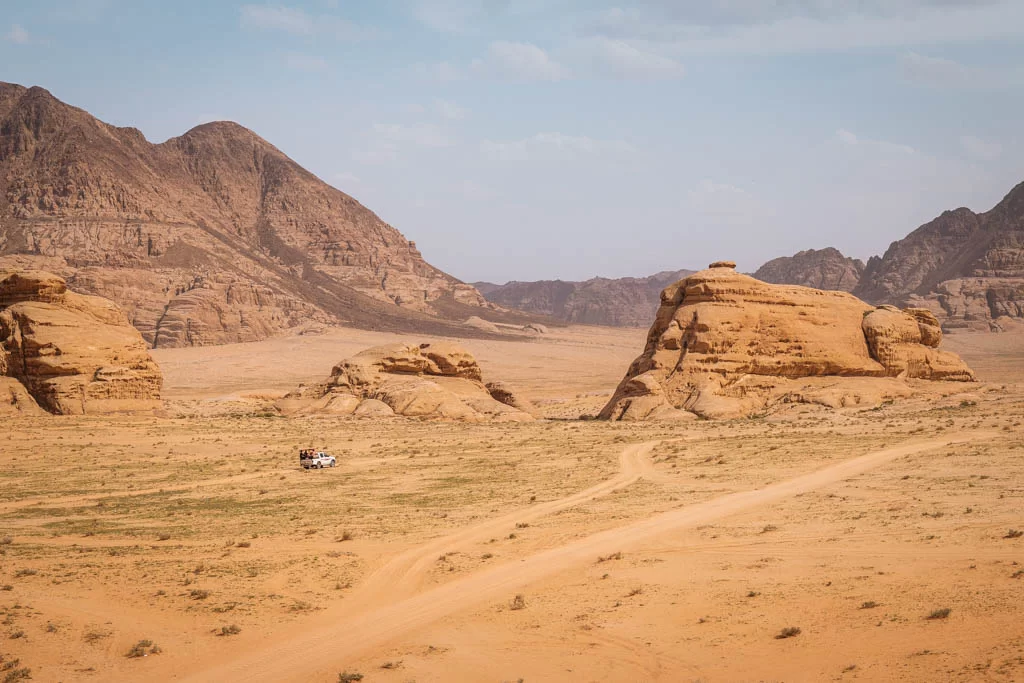 A special landscape with a lot of history
For centuries, heavily laden caravans crossed the Wadi Rum desert on their way to and from the Arabian Peninsula. Groups settled in the area as early as the 9th century BC. Today, approximately six thousand Bedouin still inhabit the region. Most live in villages, but there are also (semi-)nomadic Bedouin who migrate with their cattle during the long, dry summers in search of pasture.
However, Wadi Rum is primarily a sandy desert, adorned with pink dunes, towering rock walls and accompanying cliffs. The remarkable rock formations, such as "mushrooms" and rock arches, are too numerous to count. Many of them have served as backdrops for famous movies, including Lawrence of Arabia, Aladdin, and Dune. Due to its red color, the landscape is often associated with Mars, which in turn drew the entire crew of productions such as The Martian and Mission to Mars to Wadi Rum.
Wadi Rum Visitor Center
The Visitors Center in the northern part of Wadi Rum is the gateway to the desert. This is a mandatory stop before you begin your exploration. You are not allowed to simply drive into the area without the proper permits. If you can prove that you have booked a guide, you will receive written permission to proceed to Wadi Rum Village, which is located 7 kilometers ahead. Depending on your organization, you may be picked up directly at the visitor center.
The entrance fee to Wadi Rum is JOD 5 (€6.5) per person, payable at the visitor center. If you have a Jordan Pass, the entrance is free, but you will have to stop at the visitor center to get your ticket.
While it is theoretically possible to explore the Wadi Rum desert in your own off-road vehicle, it is generally discouraged. The desert does not have well-defined roads, so it is easy to get lost. In addition, driving in the soft sand requires a certain level of skill and experience.
If you haven't booked in advance, you can still arrange your desert experience at the Visitor Center. The possibilities are endless, ranging from one-hour rides to multi-day camel expeditions. We recommend spending at least one full day and night in Wadi Rum to truly experience its beauty and tranquility.
Our experience with Wadi Rum Stillness
After extensive research on the Internet, we chose Wadi Rum Stillness, the organization run by Habis. Habis, who was born and raised in the desert, takes great pride in showing tourists the beauty of Wadi Rum.
We booked a two day stay for 125 JOD (€160) per person which includes a full day program, an English speaking guide, accommodation in a Bedouin campsite, all meals as well as water, tea and snacks during the trip.
The first day
On the first day, we were warmly welcomed at Habis' office in Wadi Rum Village at 10 a.m., where we parked our car. From there we transferred to the open back of a 4×4 jeep that we shared with a French couple. It was wonderful to feel the desert breeze on our faces and we were grateful for the shade overhead to protect us from the intense sun. Along the way we noticed many other vehicles that did not have the same "luxury" of shelter from the sun.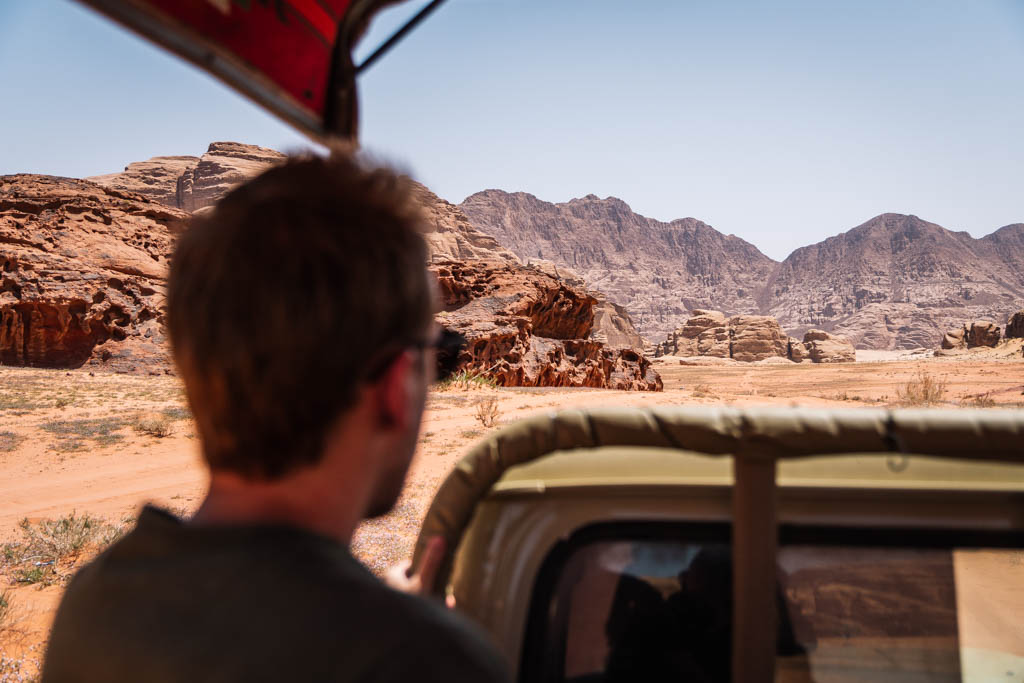 We stopped at many special places to take pictures and sometimes do a little hiking or rock climbing. In the afternoon we stopped at a beautiful shady spot where our guide cooked us a fresh meal. We were introduced to the delicious, traditional (and vegetarian) dish "galayah". After an hour's rest, we continued our sightseeing until we suddenly found ourselves driving in the middle of a large herd of camels! It was wonderful to see these animals grazing in their natural habitat. Usually you see them tied up and decorated in ridiculous ways. We even got to drink freshly tapped camel milk!
Spending the night in a Bedouin tent
Unfortunately, due to the unusual cloud cover, we did not get to see the sunset, which must have been breathtaking in this landscape. However, we were warmly welcomed at the Bedouin campsite at the same time. The camp is beautifully located and immaculately maintained. The Bedouin tents are brand new and the shared bathroom facilities were probably the cleanest we have encountered in all of Jordan. The campsite can accommodate a maximum of twenty people, although it is possible to spend the night in a cave or under the stars further away from camp. We found the tents quite luxurious, with two real beds and comfortable bedding. Thanks to our power banks, we didn't even miss having access to electrical outlets.
After a refreshing shower, we sat down at the table in the main tent. The chef had prepared the food in the traditional Bedouin way, cooking it in a covered pit buried under layers of earth. In this "underground barbecue" he cooked a variety of meats, vegetables, potatoes and rice. It was delicious, especially when paired with refreshing salads, hummus and mutabal. We finished the evening with tea around the campfire. Our guide brought out his mandolin and we looked up at the stunning starry sky.
The second day
On the second day, we planned to hike to the highest mountain in Jordan, Jabal Umm Ad Dami. Located near the border with Saudi Arabia, it stands at an elevation of 1854 meters. We were the only ones who had booked this hike, so we had the jeep and the guide all to ourselves. It was much less touristy than the popular attractions we visited on the jeep tour the day before. The climb was short but challenging. After about an hour of climbing, we reached the top and were rewarded with a breathtaking view of endless kilometers of desert stretching out before us!
After descending, we hopped back into our familiar back of the truck for a few final stops. We even had the chance to try our hand at driving, which was quite an experience! We had lunch again at the base of a rock formation, and around 3:30 p.m. we finally arrived back at Wadi Rum Village. Another amazing adventure had come to an end.
Do not hesitate to ask Habis for alternative arrangements. If it is more convenient for your itinerary to depart later or return earlier, it will likely not be a problem. We confidently recommend Wadi Rum Stillness as an excellent choice for your desert experience.