Relax and unwind, because you're in Huacachina! Our stay at this unique oasis felt like a mini-vacation during our backpacking trip. It was the first time we relaxed by the pool with a book and some summer music. But Huacachina also offers some more active, sometimes even adrenaline pumping activities. We decided to put them all to the test!
The healing powers of the oasis
According to an ancient legend, there was once a very beautiful princess living in the desert of Ica. One day, as she was taking a bath, she was startled to see a strange man standing behind her in the mirror! Overcome with fear, she dropped the mirror and fled. The broken mirror turned into a lake, where the story goes that the princess still lives as a mermaid.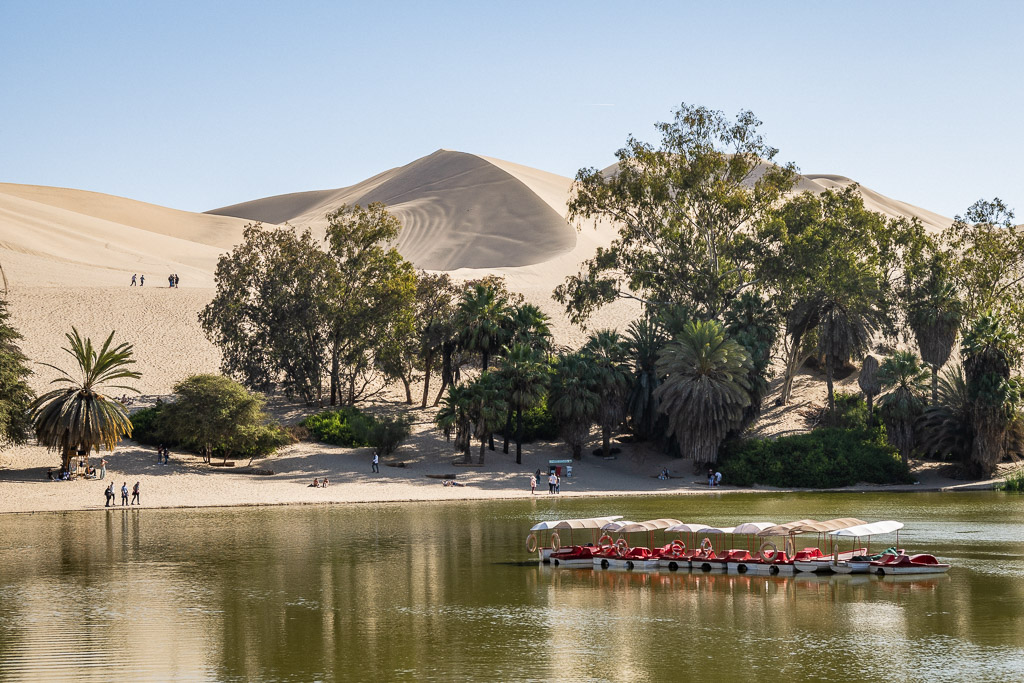 It may not be very convincing, but the legend led Peruvians to believe for a long time that the water in the oasis had healing powers. As a result, Huacachina was a refuge for wealthy Peruvians seeking miracles.
Today, the town caters mainly to international tourists. Only about a hundred people call it home, while the rest of the area is dotted with hotels, cafes, restaurants and souvenir shops. And, of course, there's the blue lagoon, surrounded by idyllic palm trees and nestled among the tallest sand dunes in South America.
The best activities in Huacachina
1. Dune buggy tour and sandboarding
By far the most popular activity in Huacachina is a dune buggy tour. Starting around 4 PM, these unique vehicles set off on their "dune bashing" adventure, and throughout the area you can hear not only the roar of the engines, but also the screams of the passengers. During a dune buggy tour, you'll feel like you're on a roller coaster. The drivers speed up the dunes and are happy to take the steepest routes down. There's no shortage of adrenaline on this ride!
In between, the buggies often stop at the top of a dune. If you want to be even more of a daredevil, you can lie down on a kind of snowboard and race down the dune. It really is a lot of fun! Fortunately, you can control your own speed by using your feet to brake in the sand as needed. The driver will then pick you up at the bottom to take you to the next spot. You'll do this three or four times during the tour. As a grand finale, you can watch the sunset from a high dune.
These tours typically take about two hours and cost 60 soles per person. There's also a 4 soles entrance fee to the desert. It's advisable to wear closed shoes and bring warm clothes as it can get quite chilly once the sun goes down.
Are you an experienced skier? You can pay an extra fee to go down the dunes on skis or a real snowboard. That sounded even more exciting to us!
2. A hike through the desert
Another must in Huacachina is to climb one or more of the dunes, preferably around sunset! We recommend the high dune north of the oasis. No one is stationed there to collect the aforementioned desert entrance fee, there are no buggies around, and you'll have a beautiful view of the oasis. You'll also be safe from the speed demons on the dunes behind this particular giant. Bring a snack, a drink, and definitely a warm sweater, and romance is sure to ensue!
3. Excursions from Huacachina
Finally, you can take some popular day trips from Huacachina.
The Nazca Lines, the famous geoglyphs whose origin remains a mystery, can be reached by bus in about an hour and a half. They are huge drawings in the sand that represent different figures and can be up to 275 meters long. The best way to see them is from a small plane, although it can cost around 400 soles per person.
Last but not least, you can plan a trip to Paracas. Paracas is a coastal town about an hour and a half away, best known for the stunning Paracas Nature Reserve. This reserve consists mostly of ocean, but you'll also find the incredible Islas Ballestas and a vast coastal desert. You can see hundreds of pelicans and even penguins and sea lions.
Read more: What to do in Paracas?
How to get to Huacachina?
Regardless of where you're coming from, you'll need to take a bus to the larger city of Ica to reach Huacachina. From Lima, this trip takes about five hours. If you're coming from Arequipa, expect a journey of about twelve hours, while from Paracas it's only an hour and a half drive to Huacachina.
Bus transportation in Peru is often well organized and the buses are usually very luxurious! We booked all our bus trips quickly and easily through busbud.com. Cruz del Sur and Civa (Excluciva) are, in our opinion, the most reliable and comfortable transportation companies.
In Ica, you can then take a taxi for about 10 soles to cover the final kilometers to Huacachina. You'll arrive at your destination in approximately 15 minutes.
There are several official taxis waiting for you at the bus station. These are usually twice as expensive as regular taxis! Walk away from the bus station and hail a taxi on the street for a cheaper ride.
Want to know more? Read all of our articles on Peru here
Our favorite addresses in Huacachina
One of the key criteria in your search for accommodation in Huacachina should be a nice pool. We found this at Ecocamp Huacachina, where we slept in a large, tall tent. The pool area has a nice atmosphere, not least thanks to the pool bar, where you can order tasty cocktails from the water.
We had dinner at Huacafuckingchina. None of the lomo saltado dishes we had in the rest of Peru could compare to the one we were served here. Additionally, the rooftop terrace at Desert Nights restaurant is a pleasant place to dine and enjoy happy hour.
Huacachina
Ecocamp Huacachina
Great location. Sleep in comfortable tents. Relaxing atmosphere at pool with pool bar.
Huacachina
Banana's Adventure Hostel
Great location. Friendly staff. Very good food in the bar next to the pool.