The Atacama Desert in Chile is the driest place on Earth and a breathtaking place not only because of its altitude! The vast landscapes, brightly colored lakes and high volcanoes make this place a destination not to be missed on a trip through South America or Chile.
A 3-day roadtrip across the Atacama Desert
The Atacama Desert is huge and many of the sights are far from San Pedro de Atacama. There is no public transportation, so for most places you have to rely on organized tours or a rental car. We have chosen the latter option and have mapped out the perfect route for a 3-day road trip through the Atacama Desert.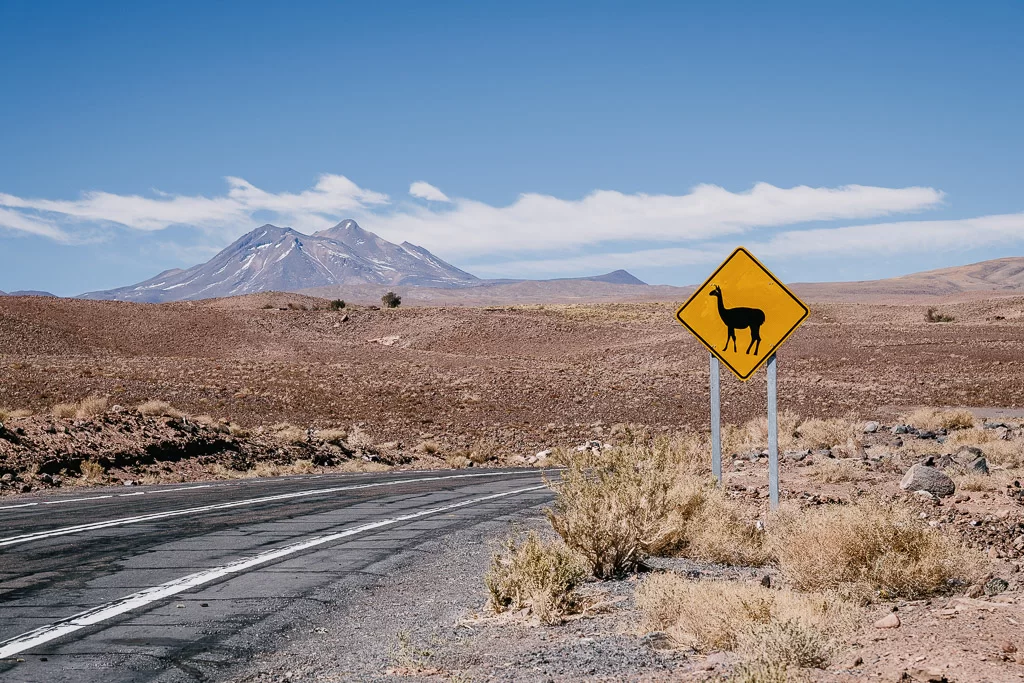 Day 1: Floating in a salty lake
Whether you are traveling by plane or already staying in San Pedro de Atacama, your road trip is likely to begin in Calama. Pick up your car at the airport, stop at a local supermarket for lunch and some snacks and head toward San Pedro de Atacama on Ruta 23.
Lagunas Baltinache Location
After about an hour's drive you will come to a fork where you turn right onto a dirt road. From here it is another 45 km or 45 minutes drive to the Lagunas Baltinache.
The Lagunas Baltinache are a series of small lakes in a salt flat in the middle of the desert. The bright blue color of the water is in sharp contrast to the white of the salt flats and the brown and red colors of the surrounding landscape.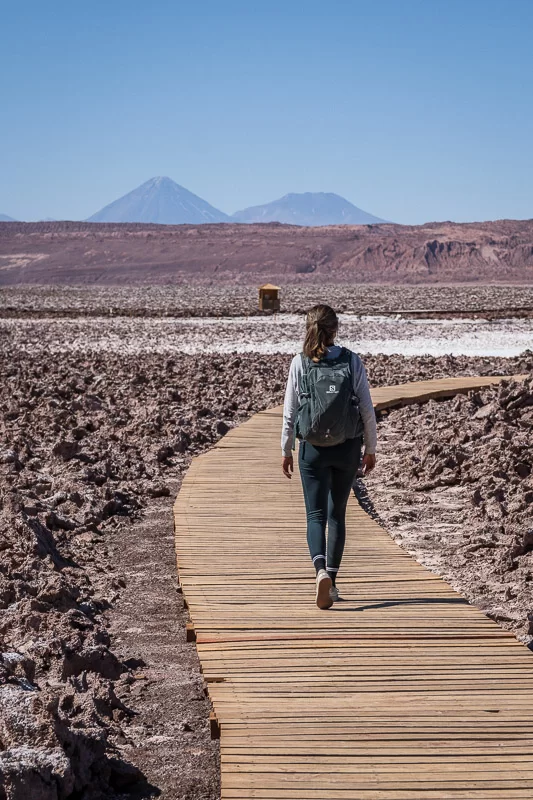 There is a trail running between the different pools and in the first and last lake you are allowed to swim. The water is freezing cold (about 12°C in winter) and because the salt content is so high, you stay afloat! So don't let the cold stop you, because it is a very fun experience.
A visit to Lagunas Baltinache costs CLP 10,000 ($12.5) per person. At the entrance there are showers where, after a refreshing swim, you can rinse the salt from your body.
On the way back from Lagunas Baltinache you can turn right onto a small road about 7 km before the junction with the main road. Follow this dirt road for about 9 km and you will come across a rusty bus that looks a bit like Christopher McCandless' bus 142. The bus was used to transport miners to and from the salt mines in Valle de la Luna, but was abandoned in the desert after the mines closed.
Valle de la Luna Location
Only 10 km away from San Pedro de Atacama you will find the Valle de la Luna. Its jagged, salty rock formations and high sand dunes resemble a lunar landscape. Because of its proximity to the village and its extraordinary scenery, Valle de la Luna is the most popular destination in the Atacama Desert.
A gravel road runs through the park, passing a number of attractions such as the Three Marias rock formation, a salt mine, and the Duna Mayor sand dune. This dune is also the perfect place to end the first day of your Atacama Desert road trip with a beautiful sunset!
A ticket to Valle de la Luna can only be purchased online and will cost you CLP 10,000 ($12.5). The last admission to the park is at 4 p.m. for cars or 1 p.m. if you arrive by bike. The park is closed on Saturdays.
Day 2: Vulcanoes, lakes and flamingos
Today you will explore the area of the Atacama Desert to the south of San Pedro de Atacama. On Ruta 23 you will drive through vast plains surrounded by mountains and volcanoes. On your right you will see the Atacama Salt Flats in the distance. Along the way, somewhere between the villages of Toconao and Socaire, you will cross the Tropic of Capricorn!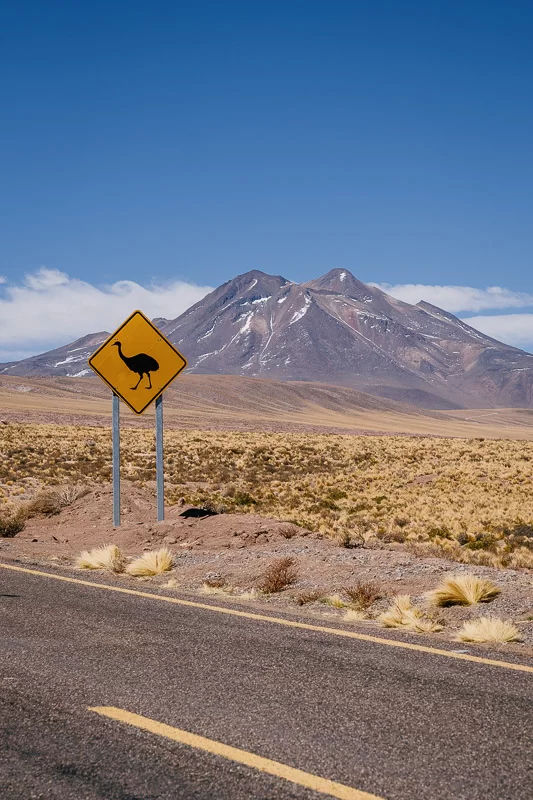 Lagunas Miscanti and Miñiques Location
About 20 km after Socaire, turn left onto a dirt road that will take you to the Miscanti and Miñiques Lakes. These two bright blue lakes, the Lagunas Altiplánicas, are at an altitude of 4000m and are connected by underground channels. On a calm day you can see the volcano Miscanti and Miñiques reflected in the water!
Combined tickets for Lagunas Altiplánicas and Piedros Rojas cost CLP 15,000 ($18) and are only available at a small roadside office in Socaire. So be sure to make a stop here before you head out into the middle of nowhere!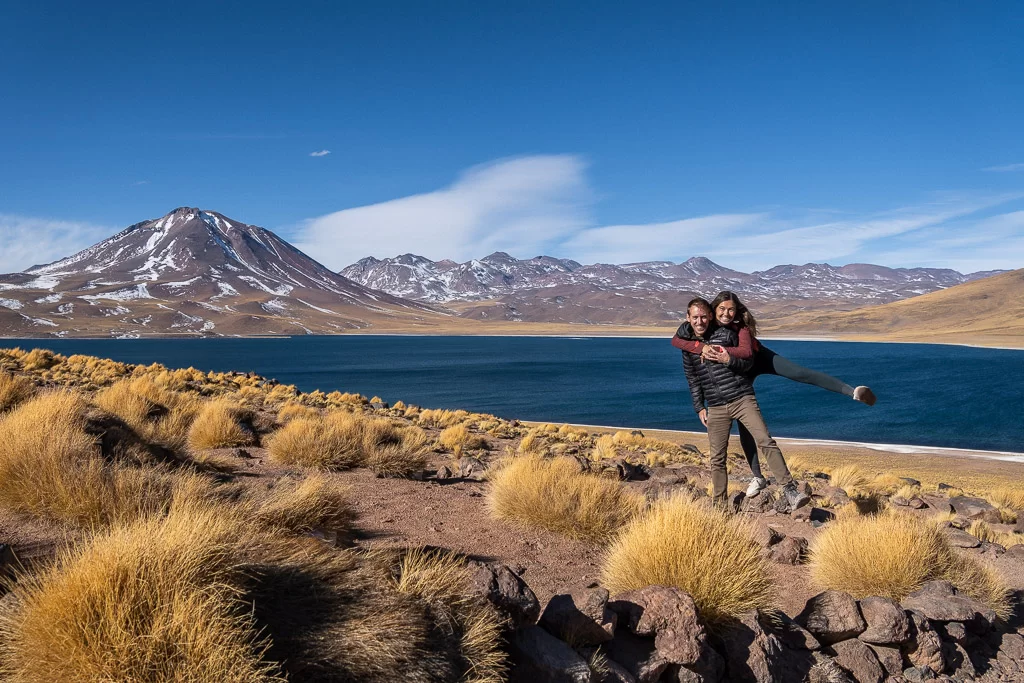 Salar de Talar and Piedras Rojas Location
Further to the south, about 50 km away from the Lagunas Altiplánicas, are the salt flats of Talar. Again, the brownish-red hues of the mountains beyond contrast with the greenish-blue waters of the salt flats.
You can leave your car at the brand new visitor center and take a short walk to the water's edge. A very special feature of this area is the bright red volcanic rock at the edge of the lake. Don't forget to bring a wind stopper as the wind can be very strong here!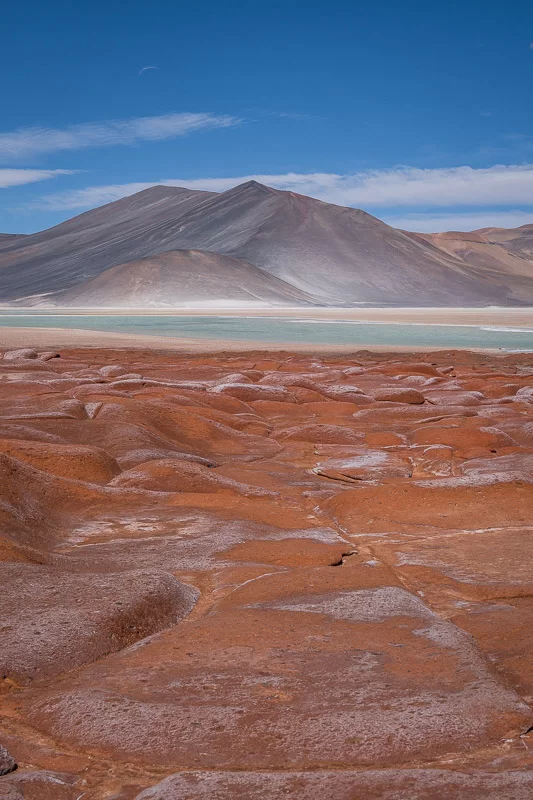 Can't get enough of these beautiful lakes? Then keep driving, because less than 10 km away is Laguna Tuyajto. This pale blue salt lake has a maximum depth of just 0.6 meters and is fed only by underground springs.
On the way back to San Pedro de Atacama, you can make a stop at the Salar de Atacama salt flats for what may be the best stop of the day! This is said to be the best place in the Atacama Desert to see flamingos, and it seems to be true. A hiking trail will take you through the salt flats and along the water, where with a bit of luck you can get up close and personal with the animals!
Make sure you get here an hour before sunset, because that's when Laguna Chaxa is at its most beautiful. The warm glow of the setting sun turns the white salt flats orange and the mountains in the background take on a pink hue.
A ticket to Laguna Chaxa costs CLP 5,000 ($8) and can be purchased at the entrance. In winter, the lake closes at 6 p.m. and the last entry is at 5:30 p.m. Use the B-355 access road near Toconao, it is semi-paved and the fastest way to get there.
Day 3: High altitude geysers
On this final day of your road trip, you will head north to explore one of the Atacama Desert's most popular destinations: the El Tatio geyser field. Most tours leave before dawn, as the geysers are most active at sunrise. We decided to avoid the crowds (and more importantly, stay in bed a little longer) and had the geyser field to ourselves around 10am!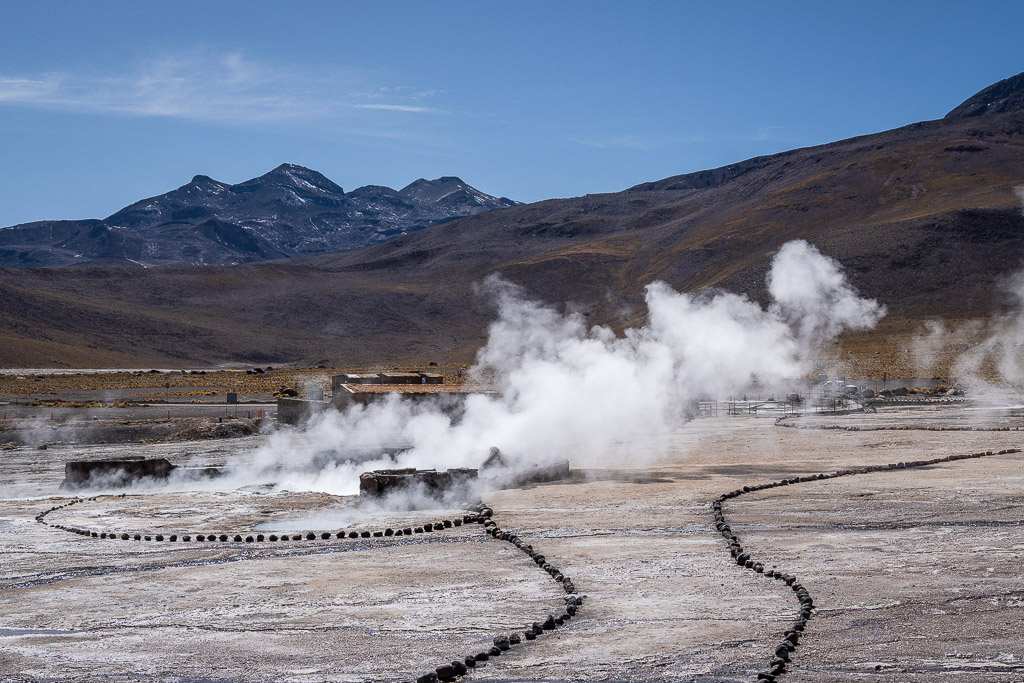 El Tatio geyser field Location
The El Tatio geyser field is located at an altitude of 4300 meters and is not only one of the highest geyser fields in the world, but with about 80 active geysers it is also one of the largest! Do not expect spectacular eruptions like in Iceland or Yellowstone, but many small bubbling pools of water and mud. The combination of smells, colors and the surrounding landscape make this a special place.
A ticket to El Tatio costs CLP 15,000 (€15). This ticket also gives you access to the local hot springs. The drive from San Pedro de Atacama takes about 1.5 hours. The road is mostly unpaved with some pretty bad sections, but with some caution it is passable with a normal car.
Río Putana and the Puritama hotsprings Location
Perhaps more impressive than El Tatio is the trip to and from the geyser field itself. Just beyond Machuca, at more than 4,100 meters, you will arrive at Mirador Putana. Here you have a beautiful view of the plateau with the wide Putana River in the foreground and some colorful volcanoes in the distance. Wherever you look there are vicuñas grazing, and if you are lucky you might be able to see viscachas or flamingos as well!
On the way back you can stop for lunch in one of the small villages. If you skipped the hot springs at El Tatio, the ones at Puritama might convince you. The water is a little less warm (between 28°C and 31°C), but the surroundings are much more beautiful! The springs are located in a deep canyon surrounded by grass and reeds.
Stargazing in the Atacama desert
With its dry climate and little to no light pollution, the Atacama Desert is one of the best places on Earth for stargazing. Booking a stargazing tour is well worth it, but you can also drive a short distance out of town and look up!
Drive yourself or join a tour?
Spending as much time as you want at a volcano or lake is the biggest advantage of having your own car. We often stopped along the way for a photo or to get a closer look at the wandering vicuñas and ostriches! Most tours stop at a sight at the same time, so with a little planning you can easily avoid the crowds.
For an organized tour in the Atacama Desert you can expect to pay between €25 and €40. If you want to visit the main sights in the area, you will quickly book about 4-5 tours anyway. If you are traveling with two or more people, you can share the cost of the rental car and fuel, and traveling with your own car is not much more expensive or even cheaper than organized tours.
Renting a car in Calama
It is possible to rent a car in San Pedro de Atacama itself, but there are only a few car rental companies, so availability is limited and prices are a bit higher. We rented our car at the Calama airport through Rentalcars.com. If you come by plane to San Pedro de Atacama, you will land here and can pick up your car right away. If you are arriving from Bolivia or are already staying in San Pedro de Atacama, you can get to Calama by bus in about 1.5 hours.
Buses run daily from San Pedro de Atacama to Calama. Tickets and schedules are available at Busbud.com or at the bus station in San Pedro de Atacama. A single ride costs about €5 and takes 1.5 hours.
We rented a compact SUV from United Rent a Car through Rentalcars.com and paid €60 per day including the full insurance offered by Rentalcars.com. The roads in the Atacama Desert are generally very good. Often you will drive the last stretch to your destination on dirt roads, but even these are passable with a smaller car.
An international driver's license is recommended, but neither when picking up the car nor at the police check did they ask for one and our Belgian license was sufficient.
Where to stay in San Pedro de Atacama
There is no shortage of hotels and hostels in San Pedro de Atacama, but because it is a popular starting point for the Atacama Desert, prices are a bit higher than in the rest of South America. We stayed at Hostal Kirckir, which is within walking distance of downtown, but with plenty of space to park our car.
San Pedro de Atacama
Hostal Kirckir
Small, simple rooms without heating. Good breakfast. Small pool and space in front to park car.
San Pedro de Atacama
Jardin Atacama
Very centrally located. Beautiful garden with swimming pool. Cozy rooms with delicious breakfast.