The Sultanate of Oman, located on the Arabian Peninsula, may not be the most obvious holiday destination, but it is highly recommended! It is also quite easy to travel there on your own. Rent a 4×4 with a rooftop tent and you'll have the freedom to go wherever you want. We have planned this diverse road trip through Oman in the hope of inspiring more adventurers!
Highlights
Itinerary
On this 8-day road trip you will discover all that Oman has to offer. Swim in beautiful wadis, climb a sand dune in the desert and hike off the beaten track in the Hajar Mountains!
Day 1 – Departure to Oman
Today you will fly to Muscat, the capital of Oman. It takes about 9 to 11 hours to fly from Amsterdam, usually with a stopover in Germany or Turkey. If you book a few months in advance, you can find round-trip tickets starting at €400.00. Check out this article for tips on finding the cheapest flights.
Oman is either 2 or 3 hours ahead of Belgium and the Netherlands, depending on daylight saving time. The local currency is the Omani rial (OMR 1.00 ≈ €2.65). The official language is Arabic.
Getting from the airport to the city
You will probably arrive in Muscat late in the evening or even after midnight. Therefore, it is a good idea to stay in a hotel near the airport. Most hotels offer airport shuttle services, but these can cost around OMR 10 per person. Taking a taxi is less expensive, with an average fare of around OMR 7 per trip.
Spending the night in Muscat
There is no shortage of modern hotels in Muscat. We stayed at Swiss Belinn Muscat, which is a short 10-minute drive from the airport, and we slept like babies!
Muscat
Swiss Belinn Muscat
Beautiful, spacious rooms. A 6-minute drive from the airport. Good breakfast.
Day 2 – Muscat ➔ Fins Beach
Today you begin your journey through Oman! Wild camping is permitted throughout the country, so a 4×4 with a tent or rooftop tent is the perfect way to explore Oman in an adventurous way. We rented a Mitsubishi Pajero with a rooftop tent from Nomad Tours for OMR 50 (€130) per day. Along with the 4×4 and rooftop tent, you will also receive all the camping equipment you need, such as cooking utensils, sleeping bags and chairs. Chris, the owner, will go over the itinerary with you before departure and give you some useful tips.
Driving in Oman is considered safe due to strict enforcement. You'll often come across speed cameras on the highways, and it's important to watch out for the large (and sometimes hard to see) speed bumps on the inner roads. The traffic rules are similar to those in Europe.
Wadi Al Arbeieen Location
After picking up your rental car in Muscat, head straight onto the road towards Wadi Al Arbeieen. Here you can enjoy an adventurous hike through the riverbed. You'll climb and scramble over rocks and occasionally wade through the water. Allow about five hours for this trip, including swimming. Wadi Al Arbeieen is not well known, so you'll probably have the gorge all to yourself.
Read all about our hike in Wadi Al Arbeieen.
If you have some time to spare, be sure to visit the Bimmah Sinkhole, a large sinkhole with crystal clear turquoise water where you can take a refreshing dip. The sinkhole is located in Hawiyat Najm Park and is open daily until 8 pm. Parking is free and restrooms are provided.
You will spend the night on Fins beach. Here you will find the so-called "blow holes", where water is forced into the air. If you're lucky, you might even see a herd of goats passing by in the morning!
Day 3 – Fins Beach ➔ Wahabi Sands
Another day, another wadi, but this one is of a different level. Wadi Shab is more touristy, but for a good reason: it is absolutely breathtaking. After crossing the river in a small boat, you will walk for about forty minutes until you reach the first pool. From there, you'll swim through several pools until you reach a narrow passage that leads to a cave with a waterfall. It's an extraordinary experience!
Watershoes come in handy here. The shallow paths are filled with small stones and the rocks can sometimes be slippery. It's also important to have a dry bag to keep your belongings safe and dry while swimming and exploring. That way, you don't have to leave your valuables (car keys, passport, smartphone, etc.) unattended.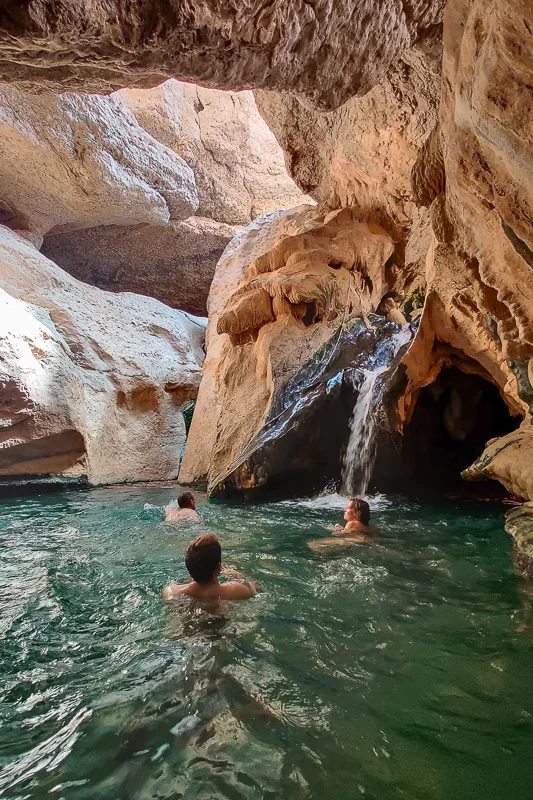 Feeling refreshed, you get behind the wheel for a trip to the desert: Wahiba Sands. Make sure you arrive in time to choose a beautiful spot and watch the sunset. Afterwards, there's nothing left to do but fall asleep peacefully under a magnificent starry sky.
Day 4 – Wahabi Sands ➔ Hajar Mountains
Set your alarm and enjoy a stunning sunrise in the heart of the desert! Pick a high dune, climb it and marvel at the spectacular view. You'll feel like you're in a story out of the Arabian Nights. Afterwards, you can wash off the sand at the next stop on your roadtrip.
Wadi Bani Khalid Location
This paradise-like wadi is perfect for swimming and a great place for lunch. The first and largest pool is easily accessible. You'll find plenty of places to swim, sunbathe or picnic. Then put on your hiking boots and make the short climb to Muqal Cave. The cave itself may not be too impressive, but you'll find crystal clear pools and small waterfalls along the way that are well worth exploring!
After visiting Wadi Bani Kahlid, head to the Hajar Mountains in the northwest of Oman. Park your car somewhere on a mountain slope and prepare for the significantly lower temperatures compared to the rest of the country. We found a spacious campsite with an incredible view of the canyon.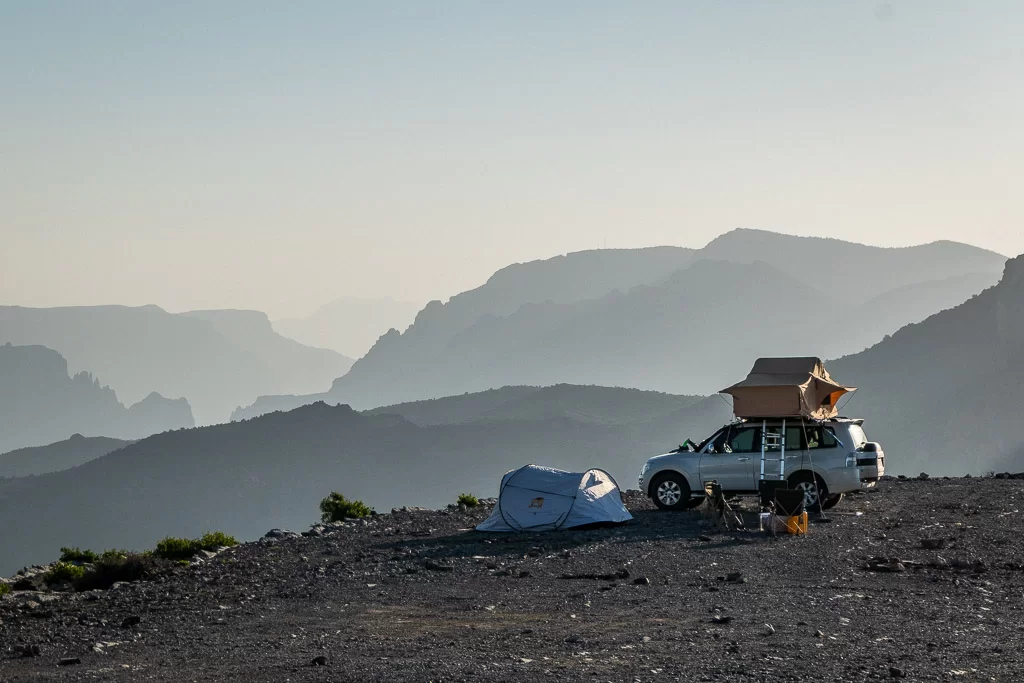 Day 5 – Hajar Mountains ➔ Jebel Shams
Get ready for a day of hiking! The trail starts right from your campsite and is about 13 kilometers long. The trail is well marked, but there are a few turns to watch out for. You'll start by following the W10h trail, then take a short section of the W8 trail to the right before turning left after one kilometer to a viewpoint. You'll then return the same way.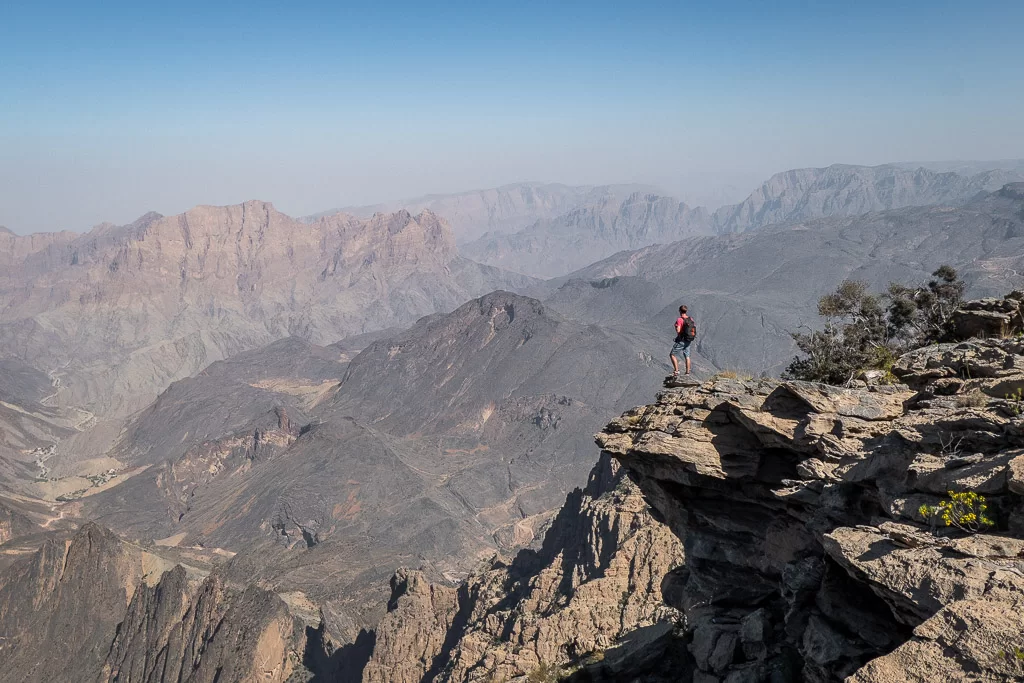 After the hike you will drive to the Jebel Shams Resort where you can use the sanitary facilities for a fee. You can also opt for the buffet dinner for OMR 7 per person and enjoy a good breakfast for OMR 3. Across the road you can venture off the beaten track to find a campsite on the edge of the Al Nakhur Canyon. It's called the Arabian Grand Canyon for a reason, and it's a stunning place to spend the night.
Day 6 – Jebel Shams ➔ Nizwa
Enjoy the sunrise from your rooftop tent as it illuminates Jebel Shams, the highest mountain in Oman at 3,009 meters and the third highest in the Arabian Peninsula. Jebel Shams means "Mountain of the Sun" in Arabic and is so called because it is the first place in Oman where you can see the sunrise.
It's time for the famous Balcony Walk (W6), which starts a few kilometers from your campsite. This hike takes you along the edge of the 1,500 meter deep Wadi Ghul canyon, with spectacular views all the way. After 3.5 kilometers, at the end of the trail, you'll find a large pool where you can take a dip. You'll then return to your car along the same route.
After an active morning, it's time for some culture! Bahla Fort is one of the oldest and largest forts in Oman, and it's the only one in the country to be listed as a UNESCO World Heritage Site. From the highest point of the fort, you'll enjoy a beautiful view of the city of Bahla and its surroundings. Admission to Bahla Fort is OMR 0.5 per person.
Jabreen Castle is a 17th century fort that, unlike many other forts in Oman, was built during a time of peace. The castle served as an important center for the study of astrology, medicine and Islamic law. One of the most beautiful rooms in Jabreen Castle is the Sun and Moon Room, a special reception hall for important guests with stunning eye-shaped ceiling paintings. Visiting the castle on your own costs OMR 0.5, but we highly recommend taking a guided tour for OMR 3.
Tonight you'll be staying just outside the city of Nizwa, where the goat market is held tomorrow morning. Visit the many souqs where you can buy local products as well as souvenirs.
Day 7 – Nizwa ➔ Muscat
Get ready for an early start today, because every Friday the goat market in Nizwa opens at seven o'clock in the morning. People from far and wide, dressed in traditional clothes, gather to trade their goats and other livestock. Hundreds of people form a circle, watching the sellers as they walk around with their goats, waiting for interested buyers. The goats are thoroughly inspected from head to toe, and ownership is transferred after intense price negotiations. It's an authentic and unique experience to witness!
The geitenmarkt of Nizwa is only held on Friday mornings. Plan your trip accordingly to make sure you are in Nizwa on a Friday, as it is definitely worth it!
Jabal Stairway Trail Location
After the goat market, you can stroll through the souks of Nizwa and then venture into another, more eastern part of the mountains. A highly recommended but very strenuous and challenging hike is the Jabal Stairway Trail. This hike takes you through an old village and into a deep canyon. At the bottom you will find a long stone staircase leading to an oasis of date palms.
Read allabout the Jabal Stairway trail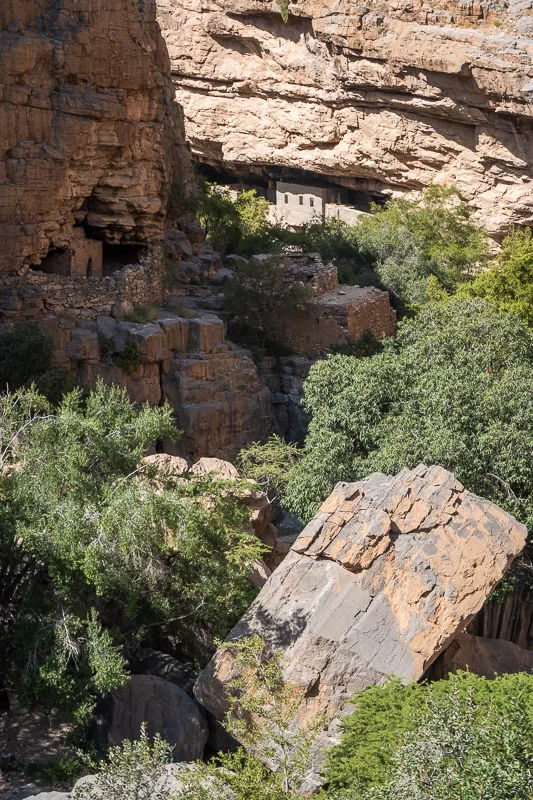 Tired but satisfied, you drive back to Muscat and say goodbye to the 4×4 and most of all to the tent. After seven days without a proper bathroom, it feels wonderful to relax in a comfortable hotel bed.
Day 8 – Muscat
On the last day of your trip, you will explore the capital on foot and by taxi. There's no Uber in Oman, but there is Otaxi. Download the app and you'll be on your way in no time! A 15-minute taxi ride will cost you an average of OMR2.5.
Sultan Qaboos Mosque
The first stop is the magnificent Sultan Qaboos Grand Mosque, which can only be visited by non-Muslims between 8am and 11am. This is the largest mosque in Oman. Inside the prayer hall you will find the second largest Persian carpet in the world and above it is an impressive 8.5 ton, 14 meter high chandelier decorated with 600,000 Swarovski crystals!
Al Alam Palace
Al Alam Palace is one of the six residences of the Sultan and is located in the old part of Muscat. The palace has a striking blue and gold facade and is guarded on both sides by the impressive Al-Mirani and Al Jalili forts.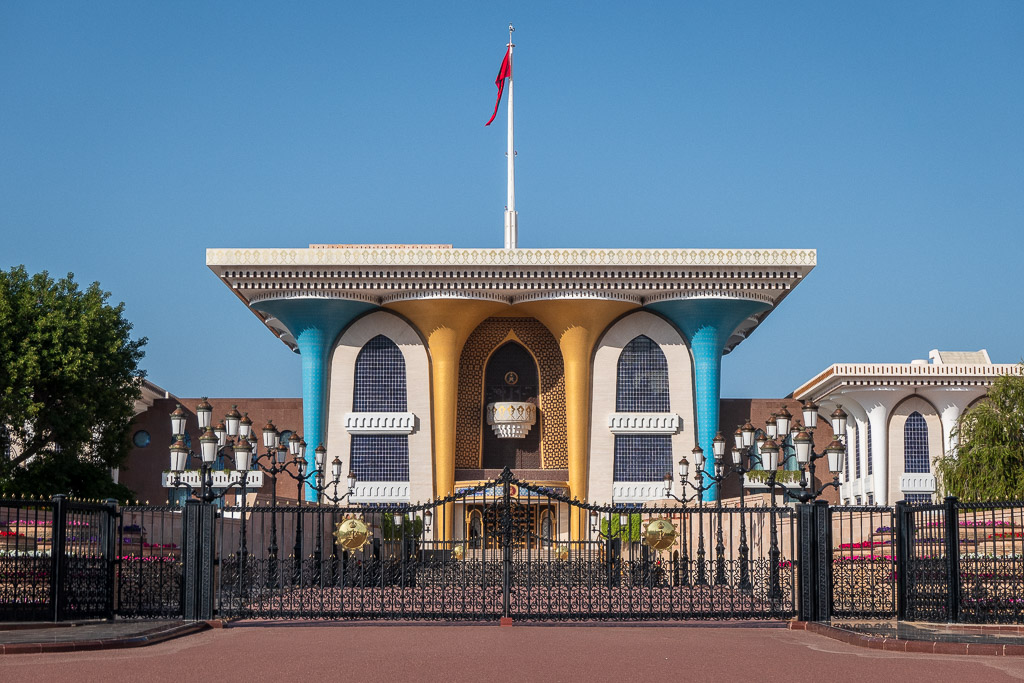 Muttrah Corniche and the souq
Finally, you can stroll along the Muttrah Corniche, the coastal promenade. From the fish market at the end of the boulevard, you'll have a wonderful view of Muttrah's many white buildings and the fort. Be sure to visit the souq, a maze of alleyways lined with shops selling just about anything.
Most shops in Muttrah Souk open around 4 PM. When you want to make a purchase, it is very common to negotiate the price. Bargaining is a typical practice in the souk, so feel free to engage in friendly haggling to get the best deal.
Budget
Renting a car in Oman is not cheap, but combining it with a tent or rooftop tent can help you save on accommodation and meals. The cost of fuel is only 1/4 of what it would be in Europe and almost all the sights are free. What is the average cost per person for this 8 day trip to Oman?
This estimate does not include the cost of airfare.
Accommodation
For this trip we rented a car with a rooftop tent for a week and stayed in a hotel only the first and last night in the capital Muscat. A nice hotel with a swimming pool will cost an average of €50 per person per night.
We rented our car and rooftop tent from Nomad Tours. A comfortable rooftop tent, including all camping equipment, costs about €25 per person per night. Another slightly cheaper option is a regular tent, which costs around €17.5 per person, also including camping equipment.
Transportation
Public transportation in Oman is limited, so you'll need a rental car to get around. Most roads in Oman are well maintained and traffic is generally calm. In addition, the cost of gasoline is about a quarter of what it is in many other countries.
We rented our car through Nomad Tours. Since you'll be driving off-road or through the desert at times, a 4×4 vehicle is highly recommended. If you'd like to have a rooftop tent, you'll need a slightly larger model. A suitable vehicle can be hired from around €550 per week. In terms of fuel costs, a week's driving in Oman will cost you around €125.
Food and drink
In Oman, cozy restaurants are relatively uncommon. The local population does not have a strong tradition of dining out, and as a result, many restaurants in Oman are operated by Indians or other expatriates. That said, the food is delicious! Often you will only pay around €5 to €8 per person for a full meal including a soft drink.
In larger supermarkets like Lulu Hypermarket, you can also find delicious salads, spiced rice dishes, hummus, and other prepared meals at affordable prices. These are perfect for when you're camping far from civilization in the desert or mountains!
We spent approximately €10 per person per day on food and drinks during this trip, totaling around €80.
Activities
Entrance to most attractions in Oman is free. To get to the starting point of the hike to Wadi Shab, you'll have to pay €2.5. A visit to Jabreen Castle or Bahla Fort will cost you €1.5. However, all other hikes and wadis are free, and most attractions in Muscat have no entrance fee. In total, we spent about €10 on activities on this trip.
Practical
Best time to travel
The best time to visit Oman is between October and April. During this period, temperatures are pleasant, ranging from 17°C to 35°C. It is best to avoid the summer months when temperatures can soar to 40°C, with occasional spikes to 50°C in the desert. Rainfall in Oman is minimal, with the highest chance of rain occurring in January and February. However, these are usually short, intense showers.
Travel documents
Since December 2020, travelers from Belgium and the Netherlands no longer require a visa to visit Oman. A passport that is valid for at least 6 months is sufficient, as long as your stay does not exceed fourteen days. However, there are still numerous agencies that try to sell you an e-visa for a fee. We traveled to Oman without a visa and were warmly welcomed!
Paying in Oman
The currency in Oman is the Rial, and one rial is made up of one thousand baisa. The Rial is one of the few currencies in the world that has a higher value than the Euro, approximately 2.65 Euros. Although most things are much cheaper in Oman than in Europe, it is still easy to misjudge prices, especially when bargaining for a souvenir.
In larger cities such as Muscat and Nizwa, it is easy to find an ATM where you can withdraw cash using your credit or debit card. However, it is important to have enough cash on hand as many places only accept cash.
Local dress code
While the Omani people are incredibly friendly, welcoming and tolerant, they also have strong religious beliefs. Many men and especially women wear traditional clothing, which means minimal skin exposure. If you are hiking in the middle of nowhere, you can feel free to wear shorts, but it is important to be respectful in more crowded areas. As a woman, it is advisable to cover your shoulders and knees as a sign of courtesy.
This rule also applies to swimming. In some wadis, you will find tourists wearing normal swimwear, including bikinis. However, in other places, such as Wadi Bani Khalid, it is important to respect local customs and traditions regarding swimwear. It is recommended to dress modestly and respect the local norms in such places.
Mobile internet
You can easily use your Belgian or Dutch smartphone on the mobile network in Oman. The cheapest option is to buy a local SIM card. Upon arrival at the airport, you can conveniently buy a SIM card from Omantel on the left side of the arrival hall for €12.5. This SIM card is valid for 10 days and comes with 5GB of data.
Electricity
In Oman they use a different type of socket, type G. These sockets are not compatible with European plugs, so you will need a travel adapter. We bought this universal travel adapter and are very happy with it. You can instantly charge a number of USB devices simultaneously with it, so you're not constantly looking for that one extra outlet!