Garganta del Diablo or Devil's Throat … It sounds very scary and dangerous, but it's not. This 18-kilometer bike ride is relatively flat and, in fact, very easy. Nevertheless, the route is extraordinary beautiful. Devil's Throat is a very narrow, winding canyon through the Cordillera de la Sal, a mountain range north of San Pedro de Atacama. You ride your bike through the canyon and are immediately transported to an otherworldly place. An absolute must during your stay in the Atacama Desert!
Where to rent a bike?
The desert town of San Pedro de Atacama is the place to be for anyone visiting the region. The long shopping street "Caracoles" is full of restaurants, souvenir shops and tourist offices. Bicycle rentals are also available, for example at Latchir Expidiciones. You can rent a quality mountain bike for 6,000 CLP (7.5$). This includes a helmet and the mandatory fluorescent vest.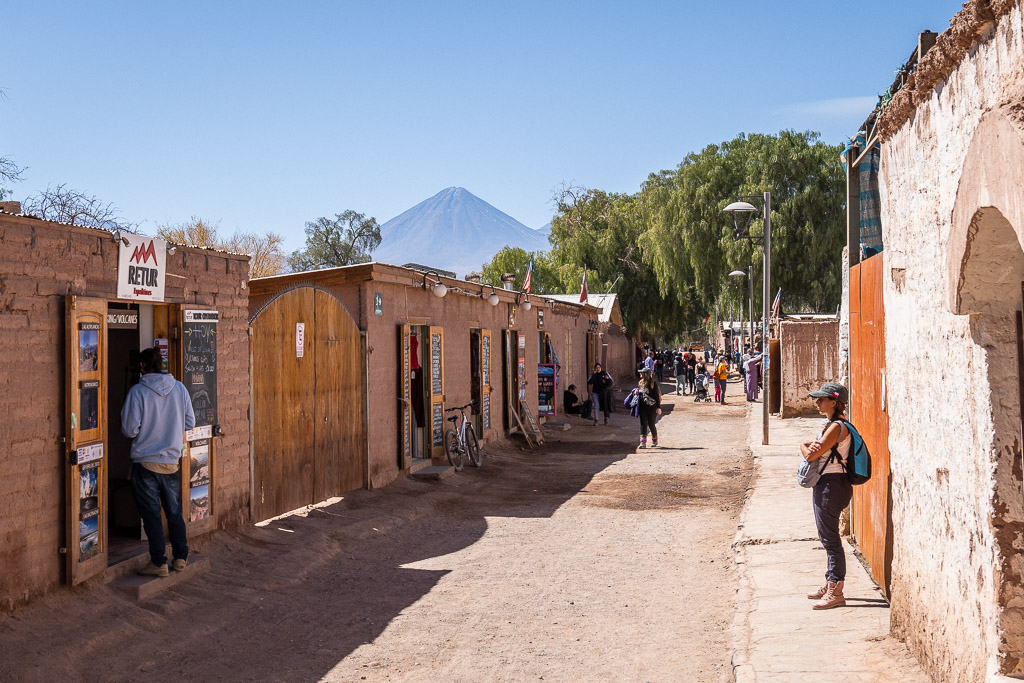 How do you get there?
In San Pedro de Atacama, you can hop on your bike straight away. Head north out of town and follow the river. Follow the river and after 3.5 kilometers you will reach the entrance of the Catarpe Valley. The entrance fee is 3000 CLP (€ 3.75) per person. You will be given a detailed description of the route free of charge!
placeswithoutdoors.com
Garganta del Diablo
From this point you have to follow the river for another 3 kilometers, occasionally crossing it. It doesn't get more difficult, because although there are mountains to the left and right, this stretch is completely flat and therefore easy. I would say "a walk in the park", although there are hardly any trees along the entire route, considering that the Atacama Desert is indeed one of the driest places in the world. Due to the lack of shade and the thirsty weather, it is best to bring plenty of water.
Eventually you will have 6.5 kilometers on the clock when you come to an intersection where you have to turn right.
More inspiration? Then be sure to read our other articles on Chile
In the devil's throat
Watch out, rock! Stop, up this step! Now one step down… Keep your head down! Sharp turn to the left! And so on. This is how our passage through the canyon went. Although the pedaling is not difficult, the many twists and turns in the canyon make it an adventurous ride. And we – and perhaps the average backpacker? – loved it!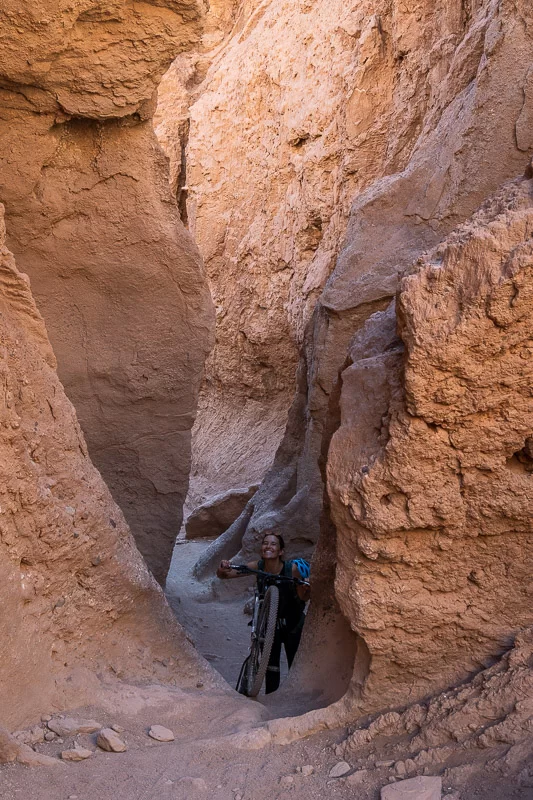 We didn't see any other living beings on the way in. Only at the end, on the other side of the canyon, did we meet some cyclists and hikers. Here we got off the bikes for a while, secured them – don't forget to ask for a lock – and continued on foot. You can hike up to a viewpoint about a hundred meters higher. The trail is steep, but don't let that discourage you, because the view is phenomenal!