At first glance, the small, dusty, and seemingly boring town of Paracas may not seem worth a visit. To understand why it's such a hit with backpackers, you have to look a little further, because just outside the city lies a unique protected area: the Paracas Nature Reserve. This reserve consists mostly of the ocean, but also includes a "coastal desert". Yes, the sea and the desert meet here, creating a unique habitat: lots of pelicans, sea lions and even penguins! Come and see for yourself!
Cycling through the desert
As far as we're concerned, this is the best tip we can give you: explore the Paracas Nature Reserve by mountain bike (or scooter). Don't choose a boring tour bus that takes you from one viewpoint to another. The experience is completely different when you get there on your own. You'll have most of the viewpoints to yourself, and the scenery you'll be riding through is absolutely worth it.
We cycled a total of forty kilometers, and with all the stops and an extensive lunch, it took us about six to seven hours. Don't expect beautifully paved bike paths, but the roads are still pretty decent, with not too many significant elevation changes. Especially if you look for a rental bike with good suspension, you'll be fine! We found good bikes to the left of the Backpackers House and paid 25 soles (€6.25) for a full day. Don't forget to ask for a lock to secure your bike.
From the center of Paracas, follow the main road south and you'll find the entrance to the reserve after about four kilometers. You'll have to pay an entrance fee of 11 soles (€3). However, we recommend that you buy a multi-day pass if you also plan to visit Islas Ballestas (don't hesitate, you'll want to). This ticket costs sixteen soles, which is cheaper than paying the entrance fee for a second visit.
We decided to ride clockwise, turning left just after the toll booth. This way we could tackle the hardest and longest part with fresh legs. After all, it's almost ten kilometers of gradual climbing to Playa Supay, the first viewpoint overlooking the ocean. From here on, the stops came faster. A few hundred meters further on we discovered La Cathedral, a rock in the water teeming with birds. We read in other blogs that dolphins and penguins are often seen here, but we can't confirm that. However, we did see a lot of red-headed seagulls!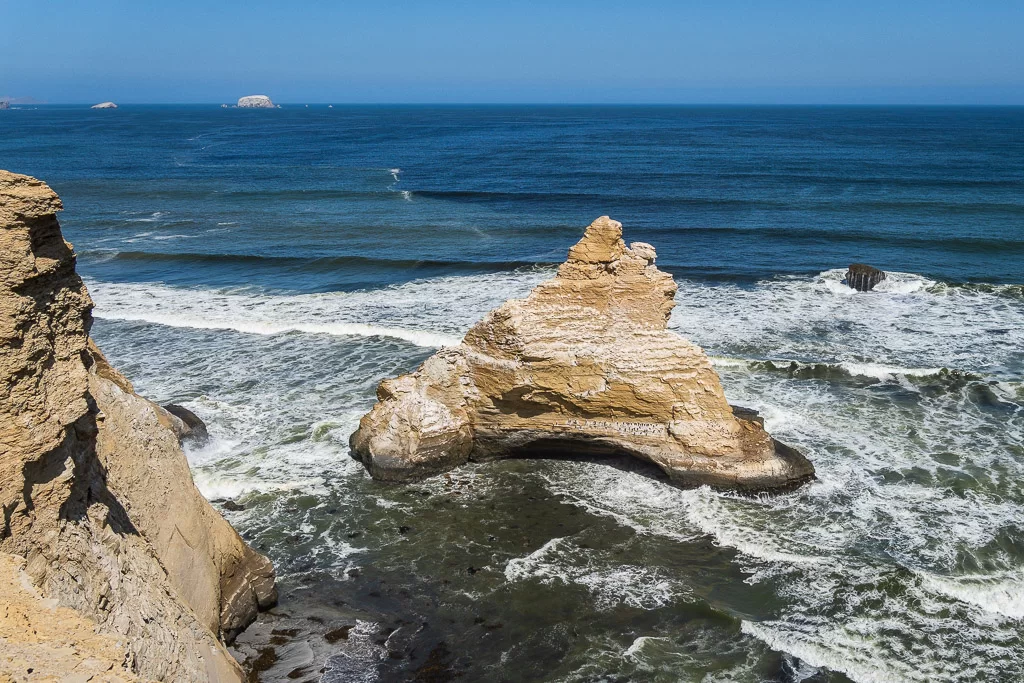 Our next stop was Playa Yumaque, where we had a fantastic view from a small cliff above the beach! It's also possible to go down and ride through the surf. We saved our energy and continued on to Mirador Istmo, where we could see 360 degrees around us, including the next stops, Playa Roja and Lagunillas.
The bay of Lagunillas is the only place on the route where you can get something to eat, and it's picturesque! So we took a long break and sat down on the terrace at the back of the restaurant La Tia Pili. The pelicans almost joined us at our table, and the view of the many fishing boats in the bay made Lagunillas a delightful place to linger.
If you want, you can make a detour to Playa La Mina for a refreshing swim. However, we were already quite tired and decided to skip the swim. Fortunately, the return trip was very smooth. It was almost all downhill and the last part of the road was paved. We arrived back in Paracas well before dark.
placeswithoutdoors.com
Cycling in Paracas Nature Reserve
A visit to Islas Ballestas
We had been promised sea lions and penguins, and we had to see them! So, we took a boat trip to the Islas Ballestas, often referred to as the 'Galapagos of Peru' or the 'poor man's Galapagos'. You can book tours anywhere along the beach boulevard or at any hostel. These tours cost 30 soles (€7.5), but you also pay 5 soles (€1.25) for the port fee and 11 soles (€2.75) for the entrance to the nature reserve (or you show the multi-day ticket mentioned above).
You can start a tour at eight, ten and sometimes twelve in the morning, when the animals are most active and the sea is at its calmest. The boat ride to the islands takes about 45 minutes, and then you spend a leisurely half hour exploring between the islands before returning to the harbor at a brisk pace. Even though the sun is shining, the wind on the boat makes it quite chilly and we were grateful for our jackets.
And what did we think? Absolutely amazing! While these islands may pale in comparison to the real Galapagos, we still found them to be incredibly spectacular. We only saw the penguins in the distance, but we never expected to see so many sea lions. We also got very close to them at times. We were on the left side of the boat and that seemed to be the best spot. Finally, we were impressed by the millions of birds that call these islands home. The rocks were literally black with sunbathing birds. It's highly recommended!
Want to know more? Read all of our articles on Peru here
How to get to Paracas?
From Lima to Paracas
Paracas is about 250 kilometers south of Lima, about a four-hour bus ride. Our Cruz del Sur bus left early in the morning so we arrived before noon. You can book a bus ride starting at €17. You can check departure times and reserve bus tickets here.
From Huacachina/Ica to Paracas
You can also visit Paracas as a day trip from Huacachina or Ica. Buses run all day, and a one-way trip takes about an hour and costs about €9. You can check departure times and reserve bus tickets here.
Bus transportation in Peru is often well organized and the buses are usually very luxurious! We booked all our bus trips quickly and easily through busbud.com. Cruz del Sur and Civa (Excluciva) are, in our opinion, the most reliable and comfortable transportation companies.
Where to eat and stay in Paracas?
On the boulevard of Paracas you will find a dozen or so charming seafood restaurants. Their terraces overlook the sea and are the perfect place to enjoy the sunset. Not in the mood for seafood? Then be sure to visit our favorite restaurant in town, Waiki Pizza Bar. In addition to pizza, they also serve delicious Mexican and there is a large vegetarian selection.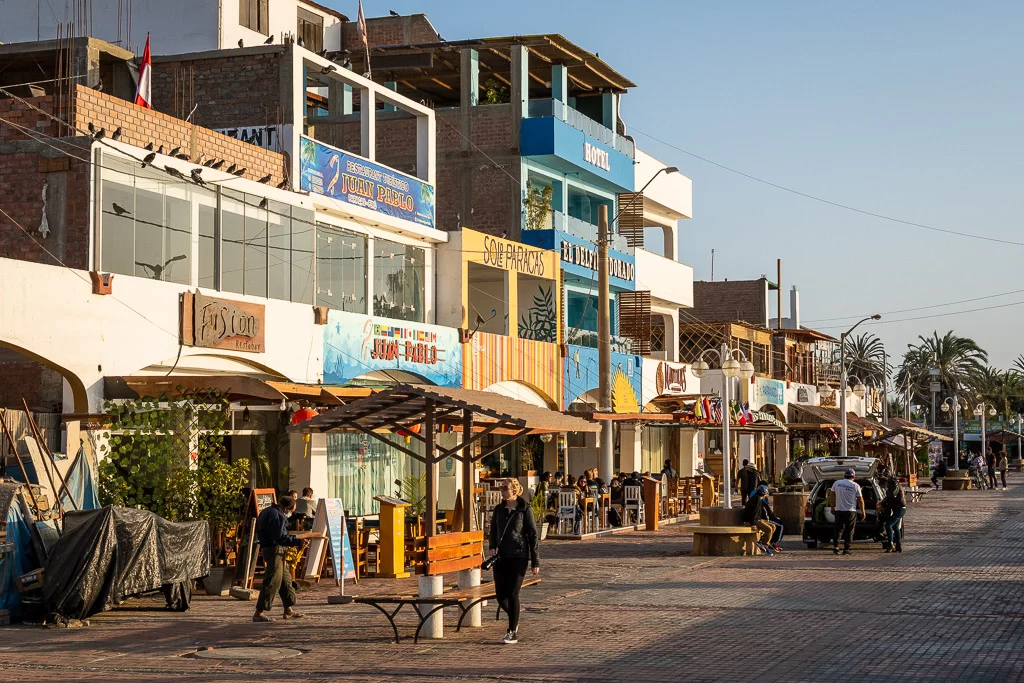 We stayed at the Backpackers House, a clean hostel with lots of common areas and a roof terrace where you can relax in a hammock. The location was also perfect, close to the beach, restaurants, and a good bike rental shop.
Paracas
Backpackers House
A hundred meters from the beach. Shared kitchen. Rooftop terrace with hammocks. Friendly staff.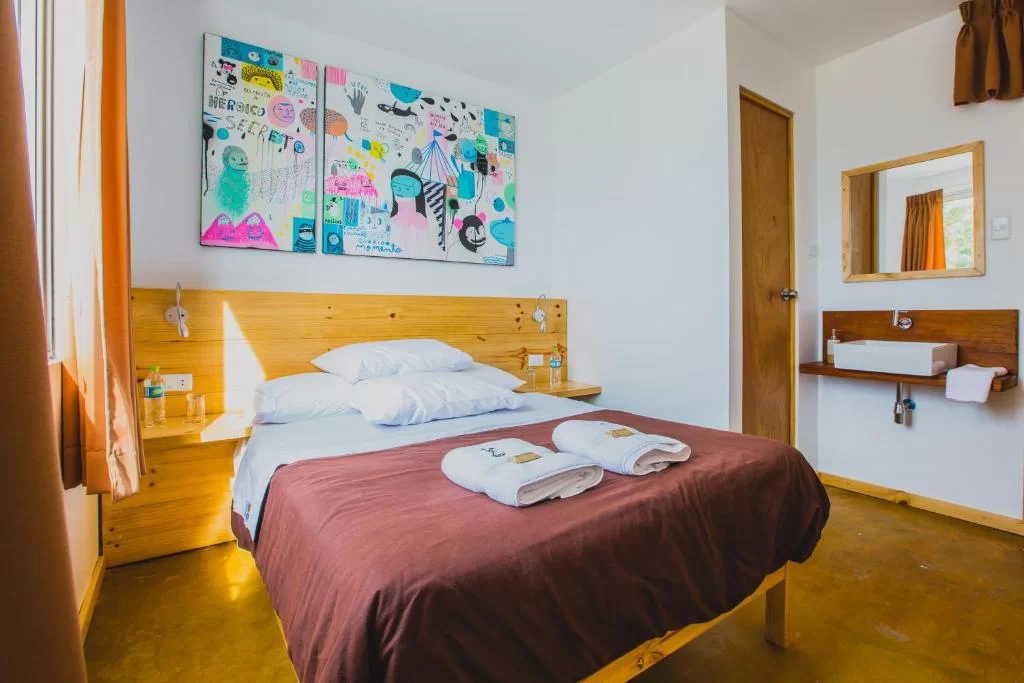 Great beachfront location. Swimming pool with loungers. Bar with panoramic view. Kayaks are included in the room rate.