Climbing the highest point of a country… That's what triggers us time and time again! With its 2864 meters, Triglav is the highest mountain in Slovenia, and once we knew that, all we wanted to do was climb it! Climbing Triglav is a big deal in Slovenia, and every Slovenian wants to reach the top at least once in their life!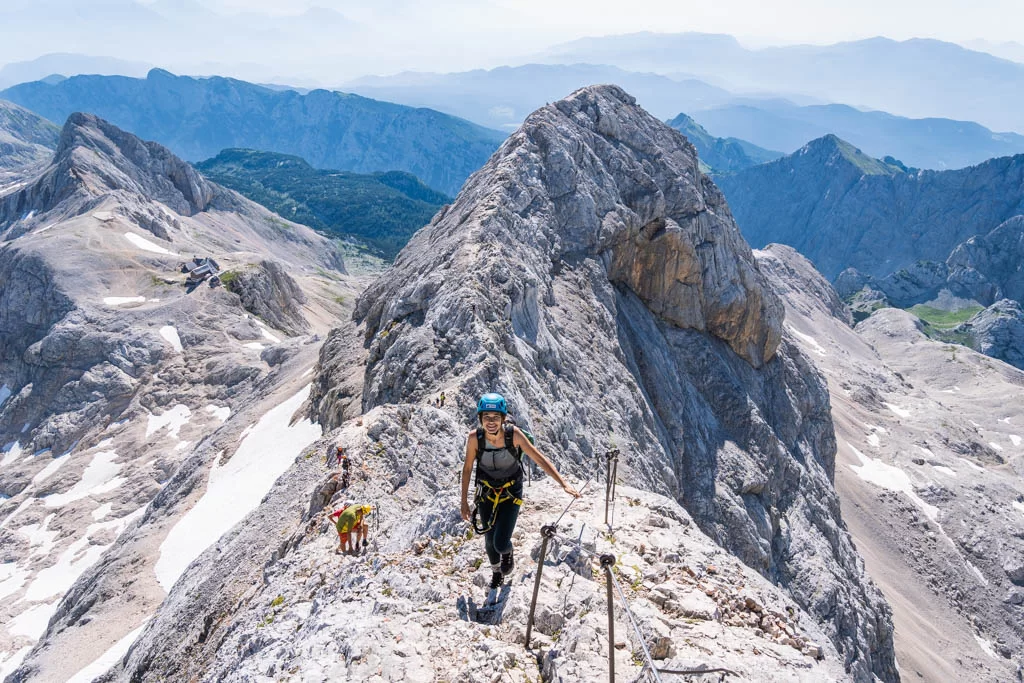 Different routes and starting points
Triglav can be reached from all directions: the Vrata valley in the north, the Krma valley in the northeast, Pokljuka in the east, Lake Bohinj in the south, and finally Trenta in the west.
We chose the route from Bohinj because we wanted to fully enjoy the Triglav National Park and walk along the "Seven Lakes". We can't speak for the other routes, but we found the trails and views on this side of the mountain absolutely beautiful!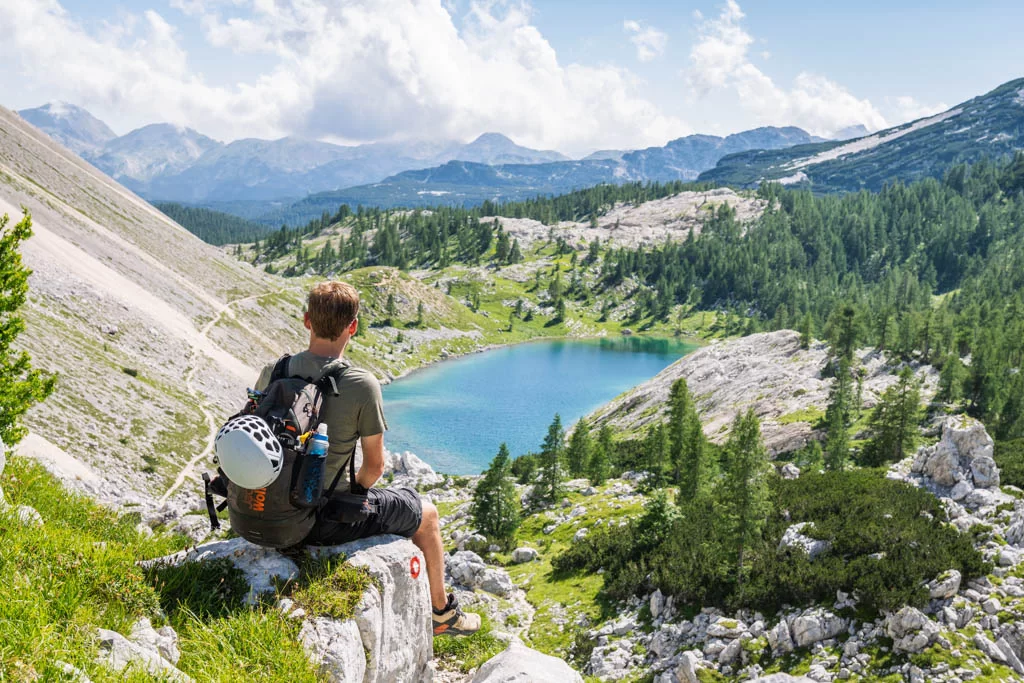 The starting point of our trip was not far from Lake Bohinj. However, parking there turned out to be almost impossible. We kept running into the same problem on public parking lots: you're not allowed to stay overnight… tricky when you're on a multi-day hike. We solved this by taking the expensive toll road (20 Euro per day) to the National Park. Behind the barrier, you can park anywhere on the side of the road for free. The big advantage: you immediately save a lot of altitude! This is where we parked our car.
Day 1: Up to the mountain hut below the summit
It's not easy to get up to almost three thousand meters. So we had a looooong climb ahead of us on the first day. We broke our own record that day, as we had never before climbed 1750 (!) vertical meters in one day. Luckily, the surroundings distracted us from those numbers…
The first half of the route was the steepest. It was a good thing that we walked for six kilometers in the forest, which gave us shelter from the warm sun. Then we reached the tree line and the most beautiful part of the trip began. Those huge rocks and the ability to see for miles… We never get tired of it! But here we had to apply a lot of sunscreen because there was no shelter.
Unfortunately, there are only a few huts along the way, so there is not much to eat or drink. The first one – "Koča na Planini pri Jezeru" – is only three kilometers from the starting point. The only other possibility to get something to eat – "Koča na Doliču" – is very close to the finish of the first day. That's why we brought our own lunch and a lot of snacks for the way.
The higher we climbed, the more we had to walk along and over patches of snow. It was not only refreshing, but also the moment to replenish our water supply. With a filtered water bottle, you can turn snow into perfectly drinkable water!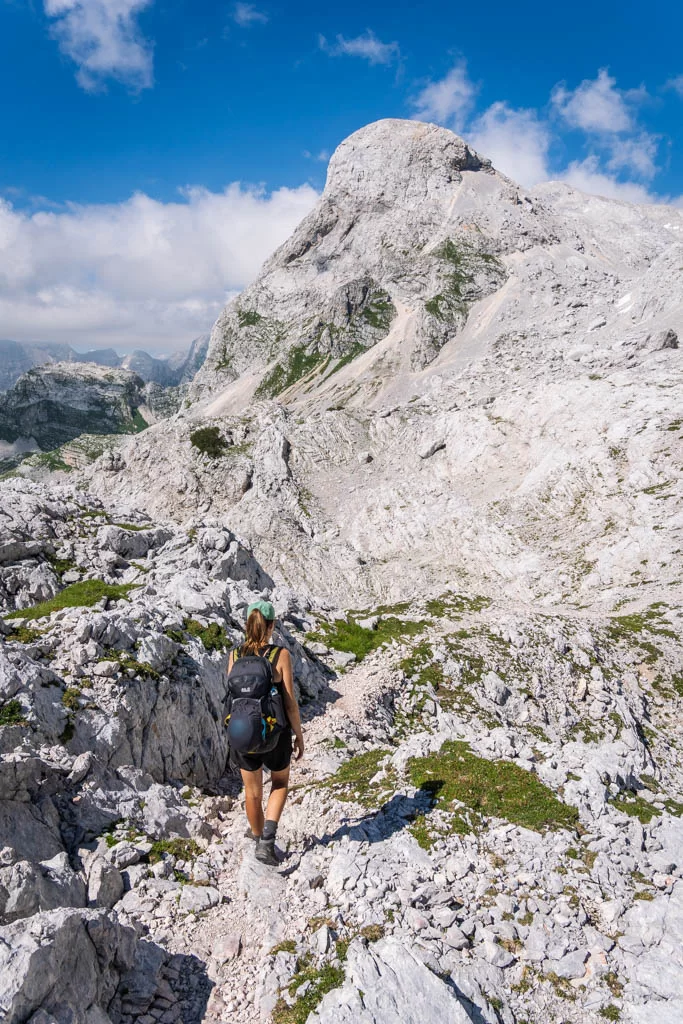 As is the case throughout the Julian Alps, mountain trails are marked by a red circle with a white dot inside. At crossroads, painted arrows or real signposts point you in the right direction. It works very well, because we haven't taken a wrong step!
placeswithoutdoors.com
Climbing Triglav: Day 1
Altitude gained
▲
1750m
▼
350m
Sleeping in a mountain hut, just below the summit
After sixteen beautiful, but also very demanding kilometers, we were almost ecstatic when we finally arrived at our sleeping place. There are several mountain huts around the summit, but this one – Triglavski dom na Kredarici (2515m) – fit our route best. It is the highest of all Slovenian huts and has a large capacity. Reservations are highly recommended, especially for weekends in July and August.
You better be prepared for a night in a mountain hut. There is no running water – not even to flush the toilet – and almost no electricity. Headlamps and a power bank it is! You sleep in large dormitories with bunk beds, but no clean sheets. You can get a pillow and blanket, but it's best to bring your own sleeping bag liner.
The hut has everything else you need! Although it is serviced by helicopter and that cost is passed on in the price, we found the total cost to be reasonable. We paid 135 Euros for the two of us in high season. This included a hot meal, breakfast, two beers and a bottle of drinking water. The atmosphere and live accordion music were thrown in for free!
By the way, for those who are still in doubt, wild camping is prohibited in the entire Triglav region. So a mountain hut is your only option!
Day 2: To the top and down along the 'Seven Lakes'
The first climbers left very early, probably to catch the sunrise. When we had breakfast at eight o'clock, we found out that we were already part of the late shift. Well-rested, we began the climb to Triglav: only 350 meters of altitude to climb in one and a half kilometers. The trail was steep, but also quite adventurous. We climbed along iron cables, sometimes on our hands and knees, but we never had to use our via ferrata set. The trail was safe and wide enough. We didn't want to miss the helmet, because sometimes other mountain tourists were dangling just above our heads.
The last meters weren't so easy. But the reward was so sweet! On top of Triglav, at 2864 meters, the roof of Slovenia, with a beautiful panorama in all directions, we felt like kings! W.O.W.! We made it!
And then it was time to start the descent. We had planned our route so that we only had to walk a very small part of the same trail as the day before. This time the route was a bit more challenging, where we had to click ourselves to the ropes provided. We were happy; we hadn't carried the whole via ferrata set for nothing!
Along the way you pass two mountain huts where you can get food. We had lunch at "Koča na Doliču", which we had passed the day before. Later, after eleven kilometers, we also had a drink at the very cozy "Koča pri Triglavski jezerih".
We followed the beautiful "Seven Lakes Trail" this day. Some of the lakes were more beautiful than others, but we really loved the whole hike – the scenery is so amazing in and of itself. The fact that we also got to greet a whole family of mountain goats and even a groundhog made it complete!
But as amazing as it was, it was also pretty exhausting. We had to grit our teeth for the last few kilometers through the forest. We arrived later than expected, but were warmly welcomed in a mountain hut just two kilometers from our car, "Gorska hiška Vogar nar Bohinjskim jezerom". For just under 100 Euros we had a private room, dinner and breakfast for the two of us. A wonderful end to our two days!
This second day turned out to be much more demanding than we expected. You could also do this trip in three days, staying overnight at the Koča pri Triglavski jezerih hut. The next day, you would hike back to your car, or you could choose to stay overnight at the Gorska hiška Vogar nar Bohinjskim jezerom mountain hut.
placeswithoutdoors.com
Triglav Climbing: Day 2
Altitude gained
▲
850m
▼
2175m
What to bring on a two-day trip to Triglav?
Climbing with a heavy backpack is exhausting! When packing for this two-day adventure, minimalism is the key. Trust us, you'd rather wear the same socks for two days than carry even one gram too much… We think these are the essentials.
Lunch package for the first day
Plenty of snacks to keep your energy up (bananas, nut bars, chocolate, …)
Filtered water bottle (Water is expensive in mountain huts, and you need lots of it. Filtering snow is a lighter and cheaper solution!)
Cash for the mountain huts (Electronic payments are usually possible, but you can't always rely on them.)
Via ferrata gear (We rented this from Altitude Activities in Bled.)
Sunscreen, sunglasses, and a hat or cap
Warm clothing (layers!)
Toiletry bag with the absolute essentials
Earplugs
Optional: trekking poles
Camera with spare batteries