One of the most beautiful hiking destinations in Peru for us was without a doubt the Colca Canyon. This canyon is the second deepest in the world and at the same time the habitat of the largest bird in the world, the Andean Condor… So it's nothing but superlatives for this magnificent wonder of nature! We did a three-day trek there, which we enjoyed so much that we want to recommend it to everyone. Well, at least to those who are fit enough, because it's not a hike for the faint-hearted!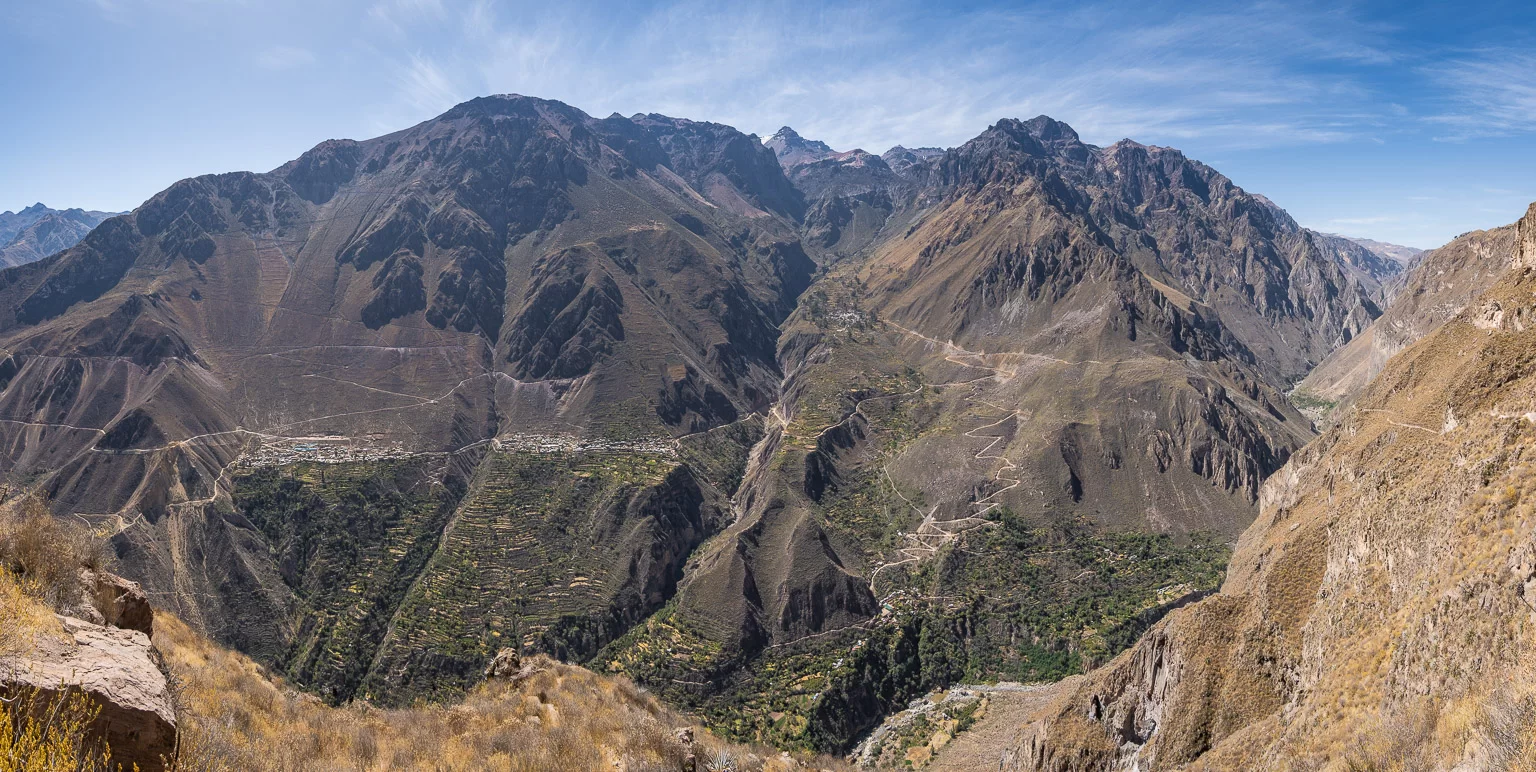 Cabanaconde and Cruz del Condor
Our three-day adventure began in Cabanaconde, a truly authentic town on the edge of the canyon. You won't find many hotels, restaurants, or other tourist amenities there, which is exactly why we loved it. Due to the limited number of decent accommodations, it's a good idea to book well in advance during high season. We have nothing but praise for Homestay Pachamama.
In many places in the Colca Canyon you can only pay with cash. There is no ATM in Cabanaconde, so make sure you have enough cash before you leave!
Despite its limited tourist infrastructure, Cabanaconde is only thirteen kilometers away from an absolute must-see: the Cruz del Condor viewpoint. Before embarking on the three-day hike, you definitely need to visit this fantastic viewpoint overlooking the canyon. Between eight and eleven in the morning you can watch the condors soar majestically over the canyon. Considering their wingspan of three meters, it's really impressive! At first we considered ourselves lucky to see one of these gigantic birds gliding into the distance every few minutes. Later we were treated to a real spectacle and saw up to ten of them at once!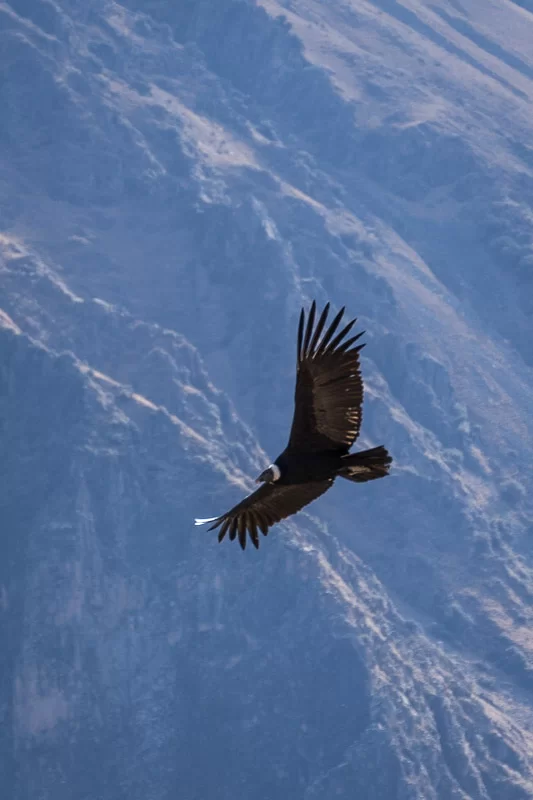 You can get to Cruz del Condor by taking the bus to Chivay. They run every half hour from the plaza in Cabanaconde and cost less than 10 soles. To get back, just flag down a collectivo going in the opposite direction. We may have lingered a bit too long – with our mouths wide open – watching the condors, because when we wanted to head back around eleven, no collectivo seemed to be passing by. So we ended up hitching a ride in the back of a cattle truck… at least as much fun!
Be aware! When visiting the Mirador Cruz del Condor you have to buy a ticket for the whole Colca Canyon. This ticket is valid for a whole week, but with 70 Soles it is quite expensive by Peruvian standards. We weren't checked during our three-day hike, but you need it to descend into the Colca Canyon. If you don't go to the Mirador Cruz del Condor first, you can buy the ticket along the trail from the person doing the ticket check.
Day 1: Cabanaconde ➔ Llahuar (12 km)
Condors, check. Time to put on our own "show" and start the hike. From the central square in Cabanaconde, head west out of town towards Mirador Achachihua. Here you'll find signs pointing the way to Llahuar, although there's really only one road, straight into the canyon!
You can usually leave your luggage at the hotel or hostel where you're staying. Take only the essentials with you in a daypack; it will certainly make the hike back up a lot less tiring!
A pair of good knees – and if not, a pair of reliable trekking poles – are invaluable for this part of the hike, as you're constantly descending. Only after crossing the Colca River at the bottom of the canyon does the trail begin to climb slightly. After about a kilometer and a half, turn left towards Llahuar. This day was just a warm-up!
Like many other Belgians and Dutch people, we slept in one of the huts at Llahuar Lodge. You can get a simple meal, but above all, the riverfront thermal baths are the showpiece of this accommodation.
placeswithoutdoors.com
Cabanaconde – Llahuar
Altitude gained
▲
165 m
▼
1350 m
Day 2: Llahuar ➔ San Juan de Chucco (13 km)
Let's be honest, we seriously underestimated this leg of the trip! With this part of the trek going through the canyon, we expected it to be flatter. Gosh, we were wrong! The first five kilometers are actually a continuous climb up to Mirador Apacheta. It wasn't easy under the blazing sun, and we didn't find any escape from the heat in the tiny hamlets of Paclla and Belen.
So we took a loooong break at the viewpoint. Next we followed the narrow, dusty road for two kilometers – luckily it was downhill! Here you have to pay attention to the map in order not to miss the right turn to Sangalle. Sangalle is also a popular stop for trekkers, but we read that it can get very crowded and is mainly filled with hotels with pools catering to party-goers. That's why we turned off just before the village towards San Juan de Chucco, our final destination. It was a challenging day, but oh so beautiful!
And now, we'd like to give a shoutout to the fantastic Colibri Lodge! Despite being no more expensive than average, we stayed in one of the most beautiful rooms of our entire journey here. The huge bed had a powerful draw on us, especially after such a challenging day! But we didn't call it a night until we had tasted the delicious three-course meal. The host family cooks mostly with ingredients they've grown themselves. Nothing but praise!
placeswithoutdoors.com
LLahuar – San Juan
Altitude gained
▲
850 m
▼
500 m
Day 3: San Juan de Chucco ➔ Cabanaconde (10 km)
We knew in advance that day three would be a challenge. After all, you have to conquer the steep slopes of the canyon to make your way out of the gorge and back to Cabanaconde. Head east from San Juan de Chucco and cross the bridge over the Rio Colca.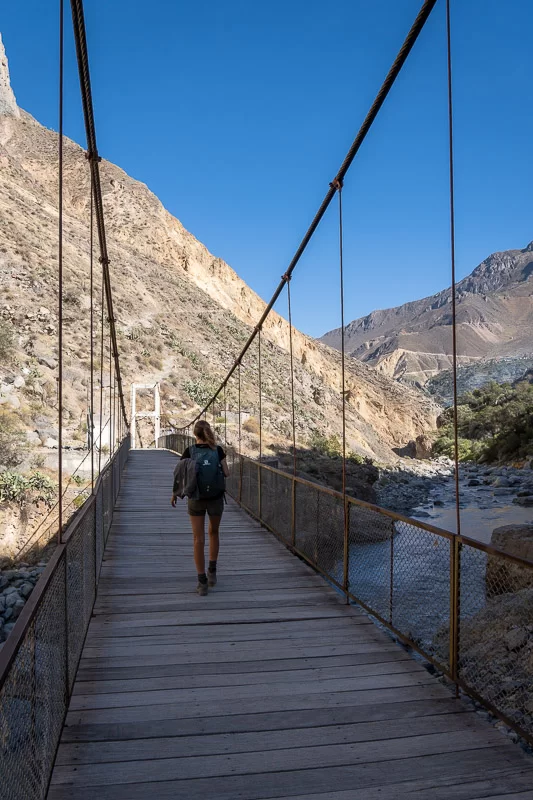 Here begins a tough climb! In less than five kilometers you have to climb over a thousand meters. The sun beats down on this mountainside, so besides getting a tan, it's mostly a matter of huffing and puffing. We stopped every few hundred meters to take a much-needed break. Luckily, the views are really great! You won't get bored here. We even spotted a condor flying overhead from time to time!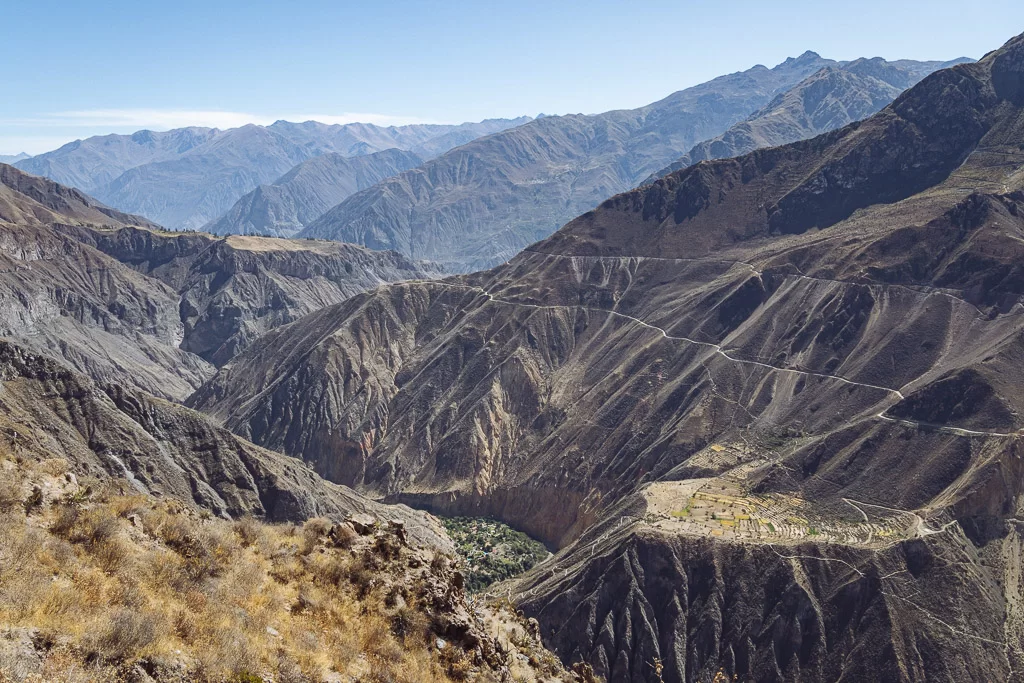 Once out of the canyon, rest assured that the final stretch back to Cabanaconde is downhill. Perfect for relaxing after a challenging but incredibly beautiful hike!
placeswithoutdoors.com
San Juan – Cabanaconde
Altitude gained
▲
1200 m
▼
130 m
How to get to Cabanaconde?
The nearest major city is the colonial city of Arequipa, 160 kilometers away. Buses from Reyna, Andalusia or Milagros take about six hours to get there, leaving at eleven in the morning and costing 50 soles for a one-way ticket.
Unfortunately, you can't book these tickets online, so it's best to reserve a seat once you arrive at the bus station in Arequipa before you start exploring the city. The bus station is a few miles away from downtown, so reserving your seat in advance ensures that you won't have to make a special trip to get there and back, and that you're guaranteed to get where you want to go.
In Cabanaconde you can buy a return ticket to Arequipa in the town square. The bus leaves at ten in the morning, so you'll be back in Arequipa around four in the afternoon.
Want to know more? Read all of our articles on Peru here
Where to stay in the Colca Canyon?
The number of places to stay in and around the Colca Canyon is limited, so be sure to reserve a spot before you leave! We chose Homestay Pachamama as our base in Cabanaconde. Comfortable beds, a good restaurant, and they are more than happy to give you all the information and tips you need to start your trek in the Colca Canyon. In Llahuar we recommend the Llahuar Lodge – who wouldn't like to relax in the hot springs next to the Colca River after a long day of trekking! Otherwise, nothing but praise for the Colibri Lodge in San Juan de Chucco. Beautiful, modern rooms with gigantic beds, a delicious dinner made with only local products and the friendliest owner!
Cabanaconde
Homestay Pachamama
Beautiful rooms with comfy beds. Free map and info on the Colca Canyon. Fine restaurant.