Although most of Peru's tourist attractions are located in southern Peru, there is one very good reason to travel north from Lima: the stunning, bright blue mountain lakes around Huaraz. Nestled in the Andes, this city is dedicated to mountain tourism and welcomes adventurous backpackers with open arms. As lovers of snow-capped peaks, we couldn't pass it up!
At high altitiude
The city of Huaraz is located at over three thousand meters above sea level and serves as the perfect gateway to hike the even higher peaks that the Andes have to offer. Five and six thousand meter peaks are not uncommon here! As "lowlanders" we had to prepare ourselves for altitude sickness. Due to the lower oxygen pressure, it is easy to fall victim to symptoms such as headaches, fatigue, dizziness and nausea.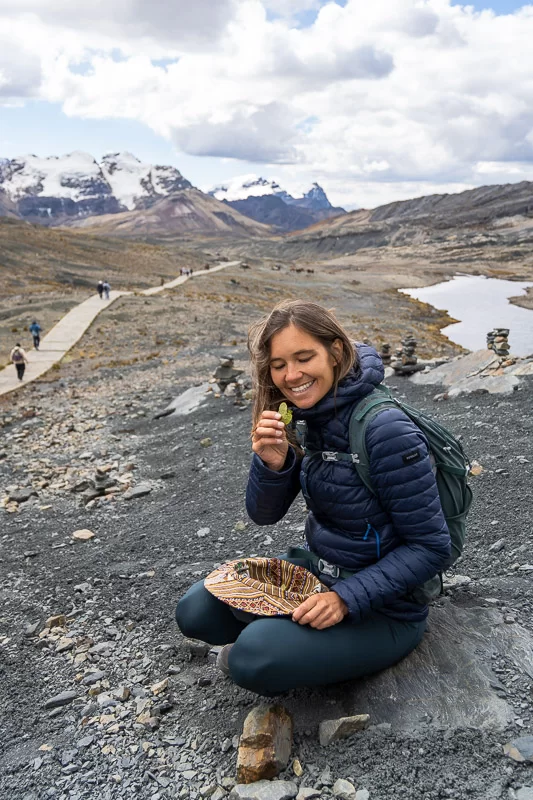 While Peruvians swear by chewing coca leaves, we took Diamox tablets on the advice of our doctor. We also made sure to take enough breaks and, most importantly, drink plenty of water. However, we completely ignored the most important precaution… acclimatization! On the first day, we should not have taken the most strenuous hike right away (oops), but rather slowly acclimatized to the altitude. In terms of "practicing what you preach" we definitely fell short, but fortunately we didn't get sick!
The most beautiful day trips
From Huaraz you can start some seemingly fantastic multi-day treks. The Santa Cruz Trek (four days) and the Huayhuash Trek (eight to eleven days) are perhaps the most famous. In addition, you'll be bombarded in Huaraz by dozens of travel agencies offering various day trips. Good news, we have selected the best!
Laguna Paron
An excursion to Laguna Paron starts at 8:30 in the morning and ends between 6:00 and 7:00 in the evening. The cost is sixty soles per person for the tour and five soles for the entrance fee. It doesn't matter which agency you book with, because all the tourists are gathered on the same street corner and divided into minibuses. Be prepared for a three hour ride, the last fifty minutes of which may feel like being in a giant human blender. Along the way, the buses stop in the village of Carhuaz to support the local ice cream parlors.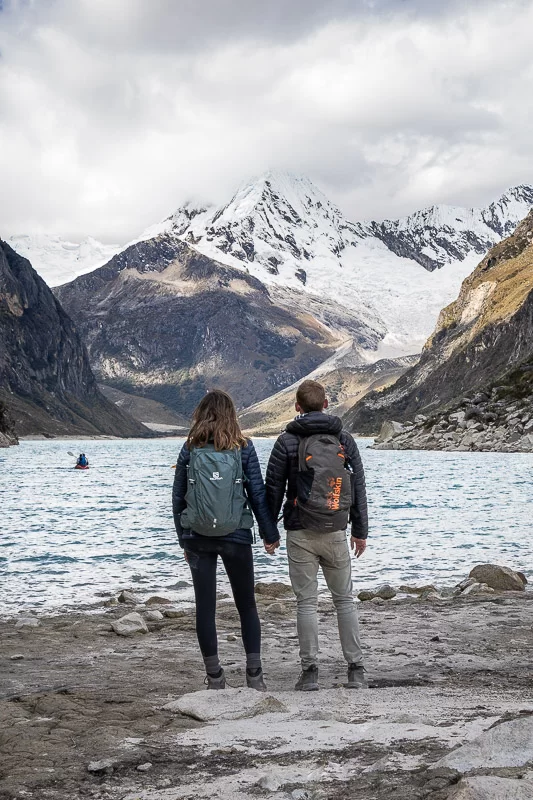 Upon arrival, you are immediately treated to the stunning turquoise color of the lake. Behind it, you'll see the snow-capped Artesonraju, better known as "Paramount Mountain," which serves as the model for the Paramount Pictures logo. Here you can rent a boat or kayak for an even more idyllic trip across the lake.
You read that right, you don't have to take a single step to see the lake. However, we recommend that you walk to the viewpoint, a twenty to thirty minute hike uphill. This will take you to an altitude of 4,330 meters. Since this hike doesn't require much effort, we think it's a perfect trip for acclimatization.
Pastoruri glacier
Something completely different, but just as amazing, is a trip to one of the few remaining glaciers in the tropics. Tours to the Pastoruri Glacier usually start around 9:00 a.m. and you'll be back in Huaraz by 5:00 p.m. We paid fifty soles to the tour operator and an additional thirty soles for the national park entrance fee.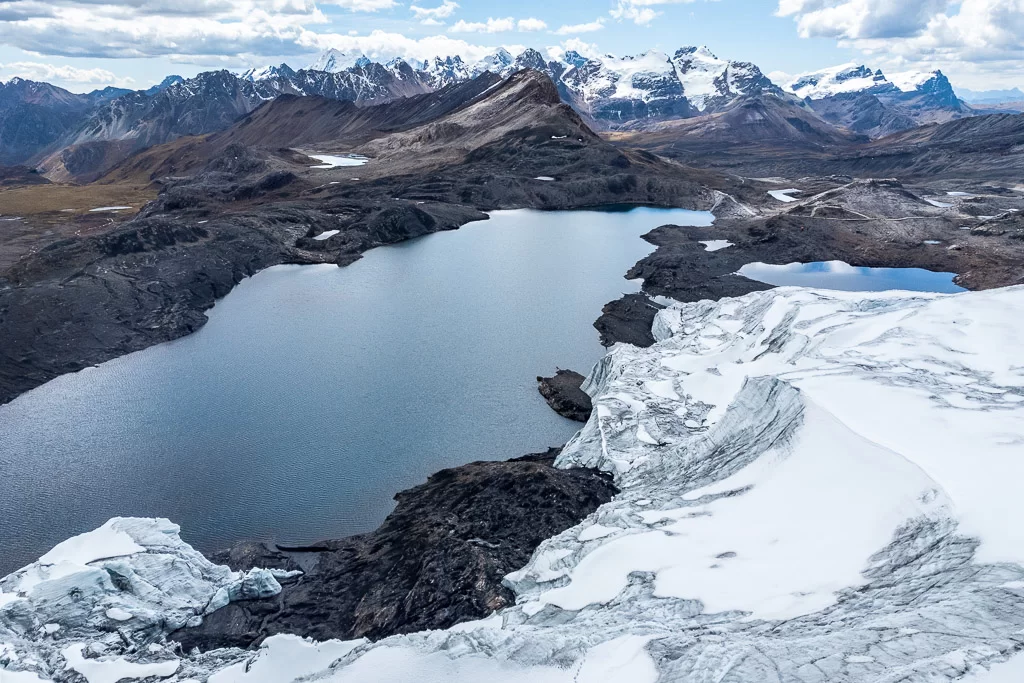 The bus ride itself creates high expectations, as the "oohs" and "aahs" were frequent along the way. The scenery is truly breathtaking, and the best views are from the left side of the bus. (Use your elbows when boarding…) We drove through a stunning plain where many llamas and alpacas were grazing and unique fifteen meter high puya plants were growing. The bus stopped a few times so we could get a closer look at all this beauty, albeit at a fast pace. "Vamos! Vamos!"
Once you arrive at the parking lot, there is a slightly uphill hike of two kilometers. This may sound like a walk in the park, but it's anything but. This is where we broke our all-time altitude record as we climbed up to 5,250 meters! At this altitude we were out of breath after every ten steps. Nevertheless, we politely declined the horses that were offered to us, but keep in mind that it is an option if you prefer.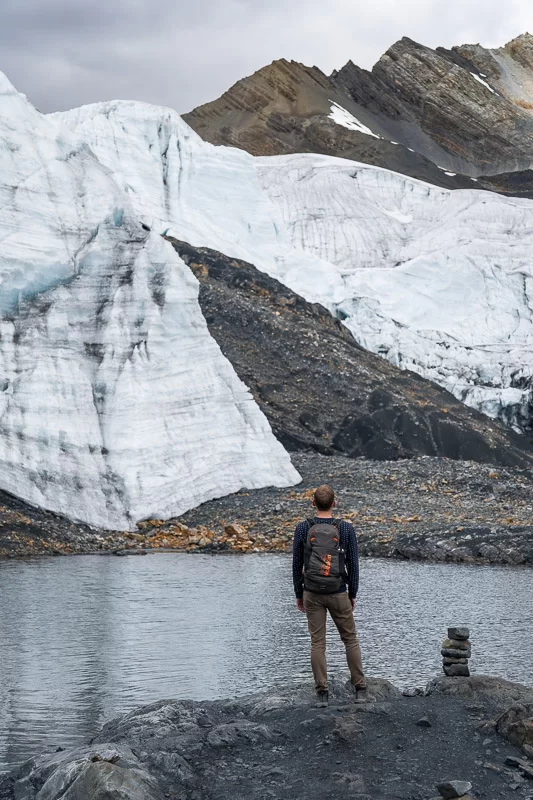 The Pastoruri Glacier spans eight square kilometers, but sadly, it is melting at a rapid pace. Hurry to visit it while you still can!
Laguna 69
Perhaps the most breathtaking gem in the area is Laguna 69, located at 4,600 meters above sea level. There are several ways to visit it, but we chose the unique Panorama Trek offered by Akilpo. It may be a more expensive option than the traditional tour (190 soles with a minimum of six participants), and you'll have to get up in the middle of the night (pick up at three o'clock)… However, we highly recommend this trekking experience!
Currently, Akilpo is the only company that offers the Panorama Trek to Laguna 69. Prices vary depending on the number of participants. For a group of six or more, they can offer the tour for 190 soles (about €49.5) per person. It is recommended to contact them in advance (by email or by visiting their hostel) to indicate your interest!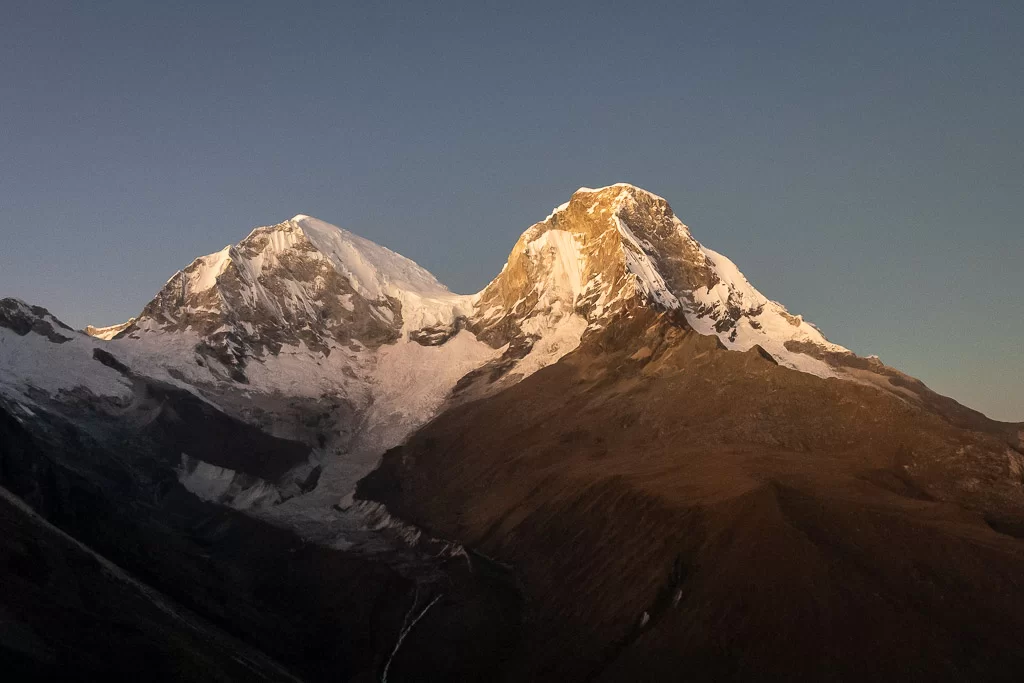 Before dawn we were picked up at the hostel to start the three hour drive to the starting point. The starting point itself was quite impressive as we were treated to a sunrise on the Nevada Huarascan, the highest mountain in Peru. The peaks were bathed in a magical orange glow. Despite the freezing temperatures, we enjoyed a delicious breakfast included in the tour.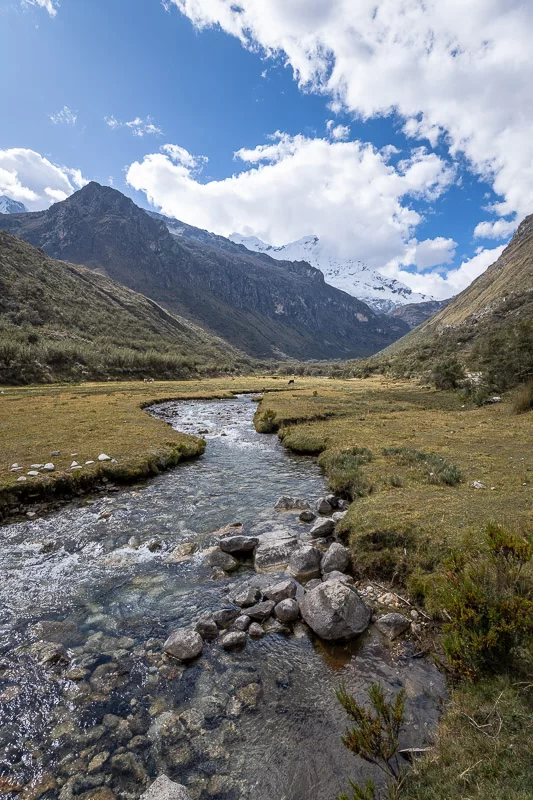 With our stomachs full, we began the trek, which is less strenuous and more varied than the traditional tours. Since our starting point was much higher, we only had to climb 480 meters instead of 800. In addition, except for a few viscachas and deer, we saw no one else on the trail, and we were the first to arrive at the vibrant blue lake. Here we enjoyed another delicious lunch. The descent followed the same path as the traditional tour (which goes back and forth on the same route).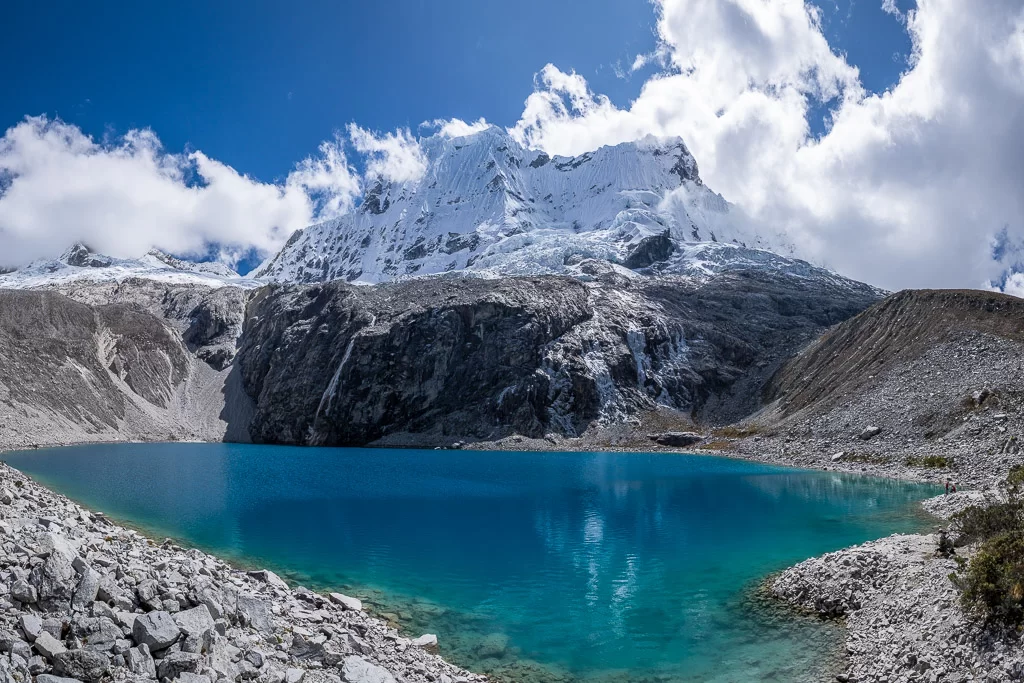 placeswithoutdoors.com
Laguna 69 Panorama Trek
Altitude gained
▲
480m
▼
1300m
Laguna Churup
The hike to Laguna Churup is undoubtedly the most challenging day trip we did. In four kilometers we had to climb 700 meters to reach the lake at 4,450 meters. Against our better judgment, we tried this on our first day at high altitude… Oops, mistake!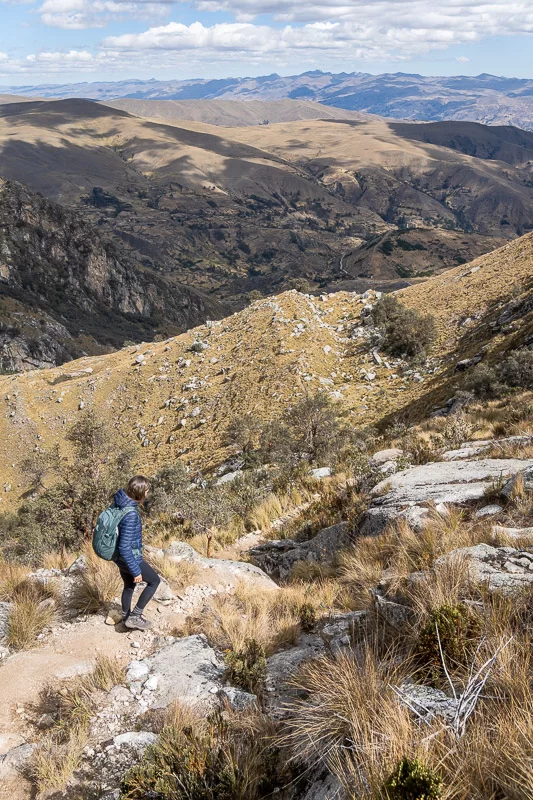 Indeed, it is human to make mistakes, and it just worked out better that way. After all, we arrived by night bus in the morning, and by the time we checked into the hostel, we had already missed the scheduled tours. Fortunately, Laguna Churup is not as far away as the previously mentioned lakes, making a private taxi affordable. We arranged to be dropped off at the parking lot for 120 soles. The driver waited for us and later took us back to Huaraz, tired but happy. We also paid an entrance fee of 30 Soles.
It is also possible to get to Laguna Churup by public transportation. Every morning at 7 am a bus leaves from the center of Huaraz and takes about 45 minutes to get to the starting point in Pitek. The cost for the return trip is 20 Soles per person. The van usually leaves for Huaraz around 1pm, but it's always a good idea to confirm the exact time with the driver to be on the safe side.
What we loved about this hike was that we were almost entirely alone, which allowed us to make the journey on our own. No crowds and no rush, just pure enjoyment. Also, some parts of the trail were quite adventurous, with the presence of ropes that we could use to pull ourselves up. The trail is well marked and easy to navigate. There's absolutely no reason not to go!
If you still have some energy left after the ascent, you can add another 2.5 km and 200 meters of elevation to your hike by walking to Laguna Churupita. From Mirador Churup, descend to the lake and take the path to the left. This will take you to the beautiful Laguna Churupita, where you will find more breathtaking scenery to explore.
placeswithoutdoors.com
Laguna Churup
How to get to Huaraz?
Huaraz may seem a bit off the beaten path when considering the typical travel routes in Peru. However, it is easily accessible by bus from Lima! We took a night bus from Civa around 10 p.m. and arrived at 7 a.m. the next morning. The Excluciva model offers seats that recline 180 degrees, allowing us to sleep soundly throughout the trip. It was a comfortable and convenient way to travel to Huaraz.
We booked all of our bus tours quickly and easily through busbud.com. Cruz del Sur and Civa are among the most reliable and comfortable transportation companies in Peru. You can book a 160° reclining seat with Cruz del Sur starting from 25€. For a more luxurious option, you can book an Exclusiva 180° seat with Civa starting from 35€.
Where to stay in Huaraz
Huaraz lives on tourism, so the choice of accommodation is huge. We stayed at the Hotel Valery, which we would recommend to anyone looking for a simple room. The three nights in this hotel were the cheapest of our entire trip through Peru. So don't expect luxury here, but rather a spacious, clean room with a wonderfully warm shower – which, in retrospect, is not always a given in South America!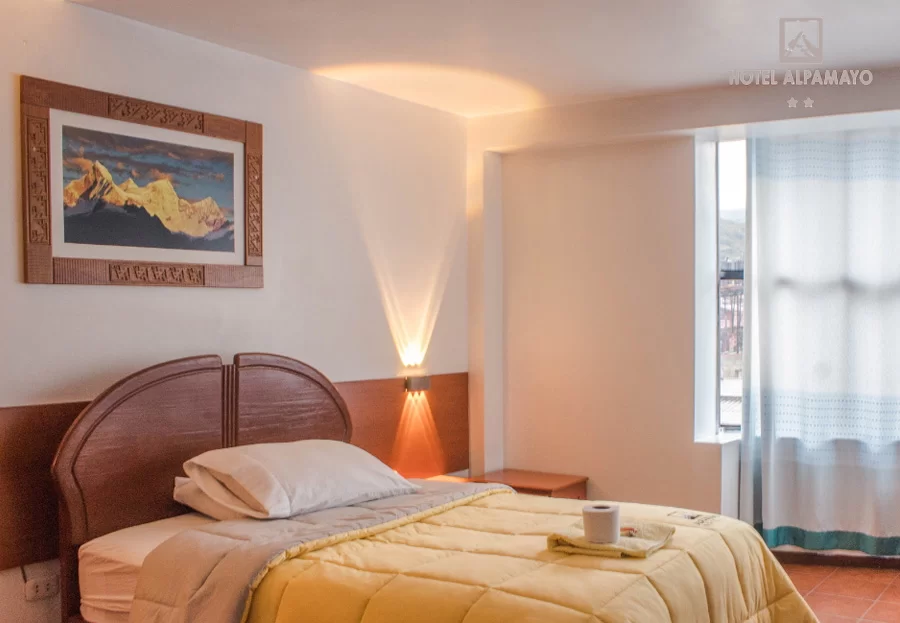 Excellent budget hotel with good value for money. Very basic breakfast included. Excellent location.
Comfortable beds. Very friendly staff. Organize tours, including the Panorama Trek. Delicious breakfast.
What to do in Huaraz
No holiday is complete without good food, so we went in search of some great places to eat. For breakfast and lunch we visited the highly acclaimed Café California. The food there was delicious, the atmosphere cozy and the service very friendly.
In addition, we discovered a kind of Valhalla for fruit freaks, namely Fruti Frutita. They have fruit in all shapes and sizes for free. Their fruit juices are heavenly!
For dinner, our favorite was Inka Frut, a very small restaurant located in a small plaza. They serve delicious burritos!
Want to know more? Read all of our articles on Peru here