San Blas is by far the most paradise-like destination we have ever been to. The archipelago consists of over three hundred tiny islands, only about forty of which are permanently inhabited. The islands look like something out of a child's drawing: a pile of pure white sand filled with swaying palm trees. These islands are owned by the Kuna Indians, who have their own laws and use them to keep mass tourism at bay. You won't find giant resorts or big cruise ships here. In other words, the San Blas Islands are an untouched paradise not to be missed!
How much does a visit to San Blas cost?
Although we are usually sceptical about organized tours and prefer to explore everything on our own, it turned out that for this destination it was not so easy and not necessarily cheaper. That's why we decided to go with Cacique Cruiser. Our quick comparative study showed that the offerings from various organizations were very similar, and we paid the standard price. Is there anything else you would like to know or need assistance with?
Our visit to the San Blas Islands cost us a total of $242 per person. For this price we were able to stay in a private cabin for two nights and were served three fresh meals a day. All transportation, including 4×4 and motorboat transfers, and taxes were included. It also covered the extra tour we booked for the second day.
How do you get to the San Blas Islands?
We were picked up at our hotel in Panama City at five o'clock in the morning and set off on a nearly three-hour drive in a 4×4 vehicle. Along the way, we stopped at a supermarket for breakfast and to stock up on snacks. For the second part of the trip you need to have a strong stomach. Or at least take a pill against motion sickness! Once we arrived, we transferred to the motorboat that took us to the "home island" in about half an hour. It was already noon at that time. For the next two days we took the same boat from one island to another.
What to do while visiting San Blas?
The first day we visited two islands and stopped at the "natural pool" where we saw some starfish. We were also lucky enough to see three dolphins! In the evening we were served the "catch of the day" for dinner. Although charming, we found the food to be quite basic, so it's best to keep your culinary expectations modest here. Drinks are available at the bar at very reasonable prices, but keep in mind that they only accept cash.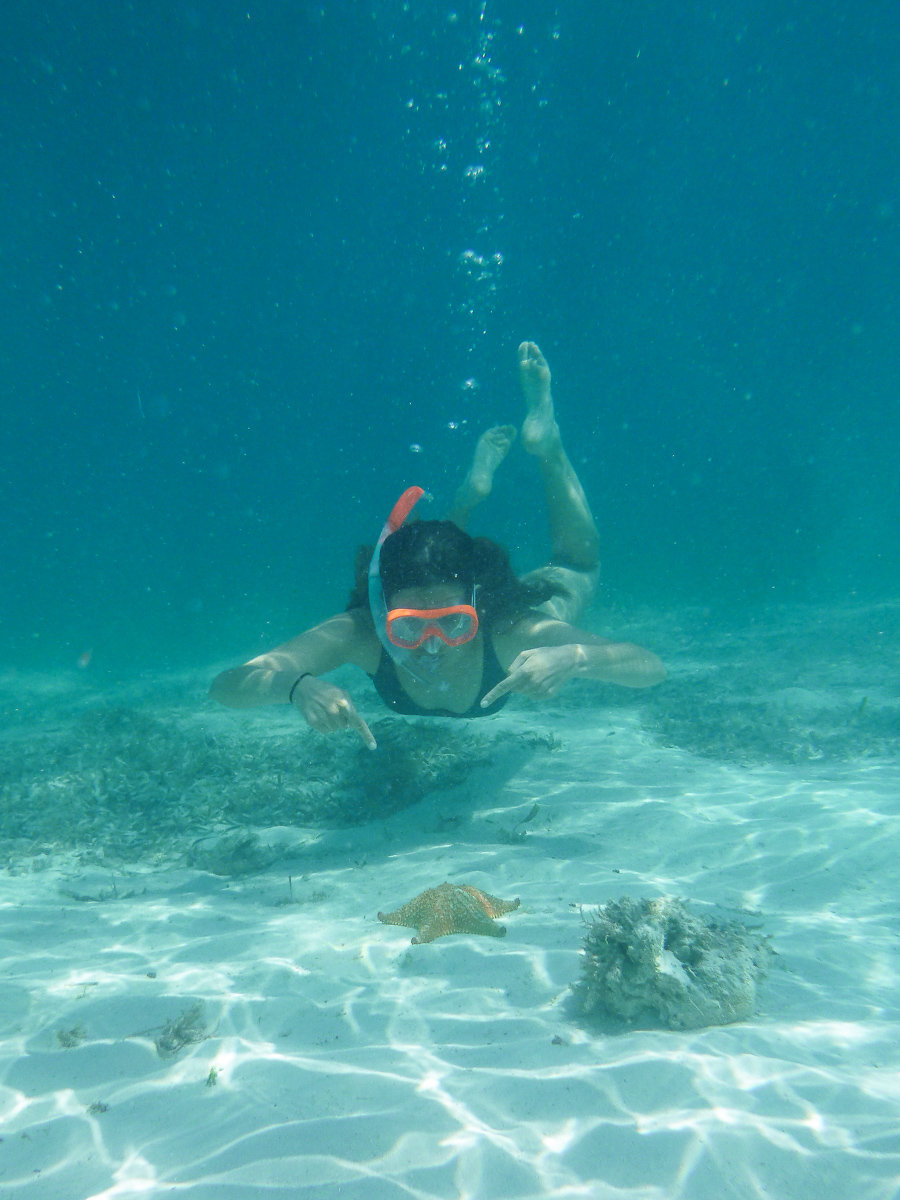 We slept in our own little hut, ingeniously made waterproof with palm leaves. It was incredibly idyllic, but definitely not luxurious. The wind blows through the walls, there is no electricity, and there is no floor, so you share the space with crabs digging their burrows in the sand. We absolutely loved this back-to-basics adventure, but for luxury seekers it might be more of a nightmare, interrupted occasionally by the sound of coconuts falling on the roof!
On the second day, you have the option of staying on the "home island" and practicing the art of doing nothing. A good book, a Frisbee, or a board game seem essential. However, we are particularly bad at this skill, so we booked an extra tour. We took the boat to three different islands and did some snorkeling, but unfortunately we didn't see anything remarkable. The guide had told us the day before that we would be going to a shipwreck where there would be more underwater life to see, but apparently the plans had changed… So it's important to make clear arrangements in advance!
The third day ended early for us. First we enjoyed the last sunrise on the beach in front of our cabin, where we watched the fishermen at work and admired the numerous pelicans on the hunt. But by eight o'clock we were already on our way back to Panama City. We could have stayed until three in the afternoon, but we felt we'd spent enough time in the hammocks and were ready for more action!
It was only after we had been in the car for a while that the messages started coming in on our phones because we had been without a connection for three days. If that seems unbearable to you, I would recommend buying a Panamanian SIM card beforehand, as all operators except Claro provide Internet coverage. Even on an uninhabited island!
Want to know more? Read all of our articles on Panama