For those who haven't noticed: Jordan truly has it all! Even though it's just a small stretch, the country also borders the Red Sea, where you can dive and snorkel to your heart's content. The coral reefs near Aqaba are indeed among the most beautiful in the Red Sea region. The water is also pleasantly warm, rarely dropping below twenty degrees even in winter. Spending a few days here can be a nice change of pace during your vacation in Jordan.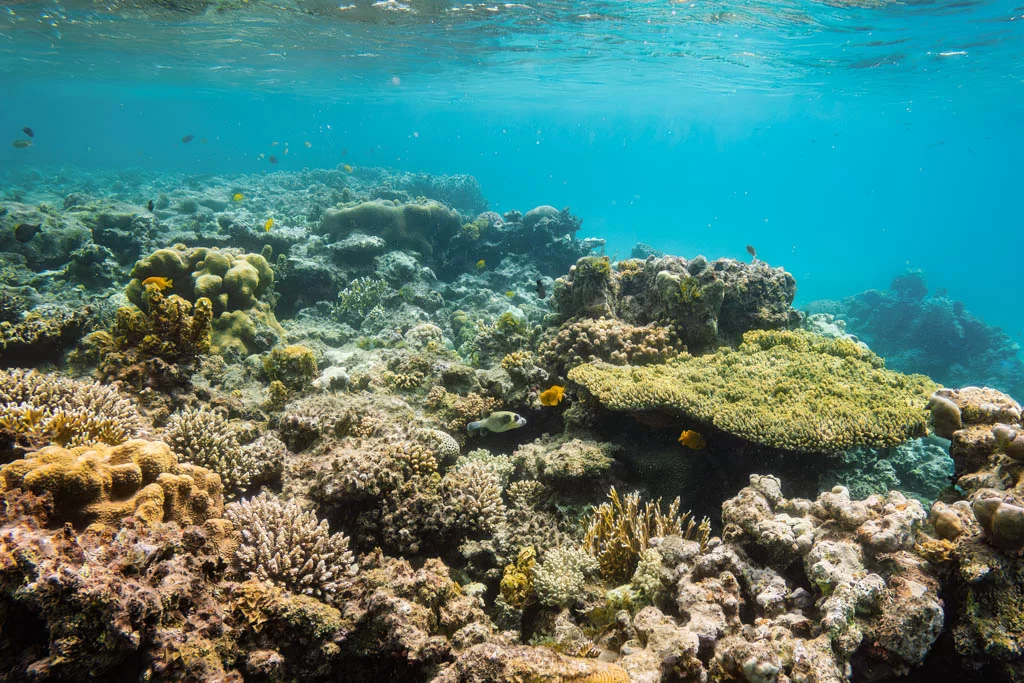 Where to stay in Aqaba?
The city of Aqaba is primarily a port city that has long been dominated by industry. It wasn't until the 1990s that the focus partially shifted to tourism and efforts were made to improve the holiday experience, including the construction of a beach promenade. There isn't much else to see in downtown Aqaba. That's why we decided to stay outside the city, about 15 kilometers to the south, on the so-called 'South Beach'. This is where all the great diving and snorkeling spots are located.
The hotels here are also better equipped for exploring the underwater world. We stayed in a room at the Arab Divers Aqaba Hotel. This accommodation has its own diving school, rents all the necessary equipment and can give you personal advice. The stunning Japanese Garden Reef, which is described in more detail below, is a twenty minute walk away.
Restaurants are not that plentiful near South Beach. You could drive to the center of Aqaba for more options, but we decided to drive to the closer Tala Bay for dinner. Tala Bay is a large, upscale, gated complex with many fancy resorts, several swimming pools, and its own marina. It can be quite expensive to stay here, but the restaurants are reasonably priced and very cozy. If you mention at the gate that you are only coming for dining, they will instruct you where to park inside the complex.
Where to snorkel in Aqaba?
The vibrant underwater world at South Beach is a true paradise for divers and snorkelers. Even though we don't (yet?) have a diving certificate, we didn't need one to enjoy the long, shallow reefs near the beach. Both Rainbow Reef and Japanese Garden are only twenty meters from the shore and are absolutely stunning. We saw sponges, corals, fish of all shapes and colors, and even a sea turtle!
Further out in the water is the wreck of the Cedar Pride, a ship that sank after a fire in 1985. It sits at a depth of ten meters, which makes it particularly interesting for divers. However, if the conditions are right, it is also possible to get a good view of the wreck while snorkeling.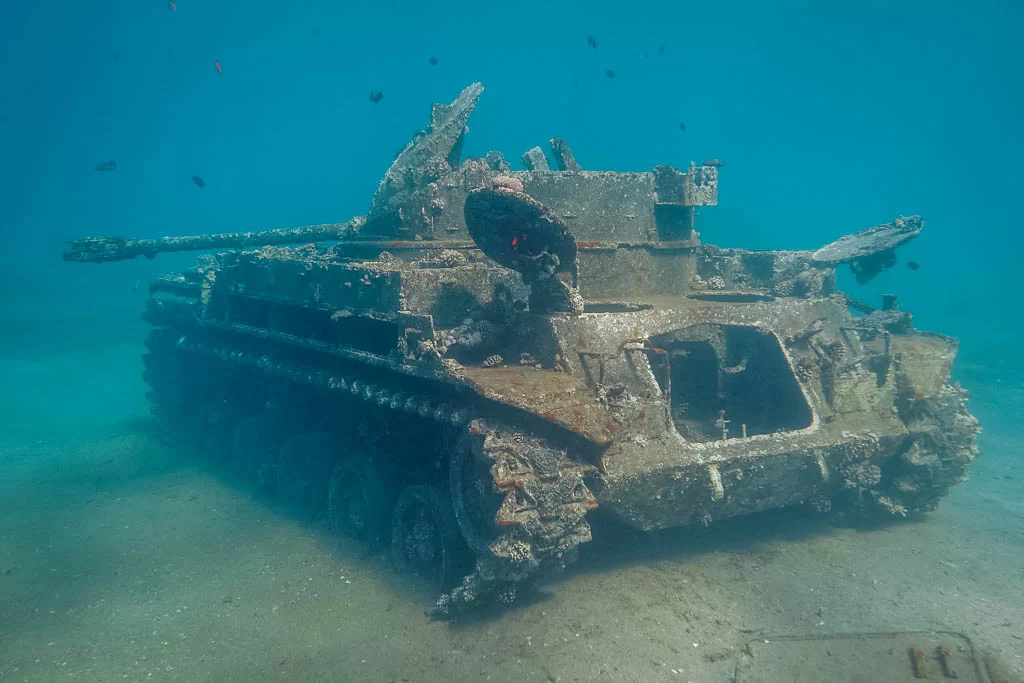 If you're interested in exploring other wreck sites, be sure to check out the M42 Duster Tank (at a depth of six meters) and the C-130 Hercules Aircraft Wreck (at a depth of twelve meters). Both were deliberately placed on the seabed by avid diver King Abdullah. They are located about one kilometer south of the Japanese Garden, so you can easily walk across the beach to reach them.
placeswithoutdoors.com
Snorkeling in Aqaba
To sum it up, you have several remarkable underwater attractions all in one place! We were even able to walk to them from our hotel, but if you prefer to drive, free parking is available at the Aqaba Marine Park Visitor Center, which also has a coffee bar and restrooms.