Land of the famous canal, of white sand beaches and of lots and lots of jungle. This is what makes traveling in this southernmost country of Central America so diverse. You can spend whole days relaxing on a beach, or go for an action-packed vacation. Combine this with the relatively short distances between destinations and the extensive bus network in Panama, and you have the perfect backpacking destination!
Highlights
Itinerary
In our 2-week itinerary you'll discover everything Panama has to offer. From the bustling metropolis of Panama City to the white sand beaches of San Blas and the lush green cloud forests of Boquete.
Day 1 – Departure to Panama
Today you fly to Panama City, the capital of Panama. A direct flight from New York is about 6 hours, a few hours more if you have a layover. You can get round-trip fares starting at $500.00 if you book several months in advance. Check out this article for tips on how to find the cheapest airline tickets.
The time zone in Panama is GMT-5, which is the same time as New York City. The local currency is the U.S. dollar. The official language is Spanish.
Getting from the airport to the city
The easiest way to get from Tocumen International Airport to downtown is to take an Uber. You'll be there in about 30 minutes. The average fare is $15. You can also take a local taxi, but they will quickly charge you $30 or more.
Another option is public transportation. From the airport, take the E489 bus to the Pedegral metro station, which is on the green line 2. From here, take the metro to San Miguelito station and change to the red line 1. You can continue on this line until you reach the 5 de Mayo station. From here it is a 15 minute walk to Casco Viejo. A bus ride will cost you $0.25, a subway ticket $0.35. The total travel time is about an hour and a half.
Day 2 – Panama City
Today you have a full day to explore Panama City. The cozy, colonial Casco Viejo, with its many trendy bars, stands in stark contrast to the numerous skyscrapers that make up the impressive skyline of the city. One of the best things about Panama City is that there is plenty of green space between all the buildings. You can easily escape the hustle and bustle of the city on Ancon Hill, in the Metropolitan Natural Park and along the Amador Causeway.
For more tips, read our guide to Panama City.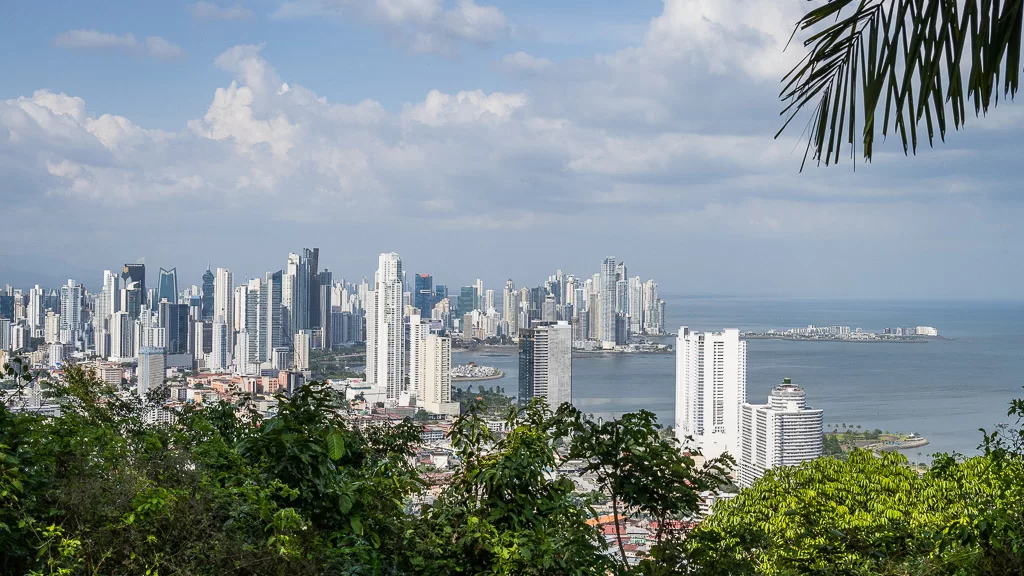 Transportation in Panama City
The easiest way to get around the city is to use Uber. A driver will often be waiting for you within 10 minutes, and an average ride will cost you $3 to $4. The city also has an extensive public transportation network. You can read more about this in our guide to Panama City.
Accommodation in Panama City
Panama City is big, so there is no shortage of hotels and hostels. The best neighborhood to stay in is Casco Viejo, but don't wait too long to book as supply is limited! A cheaper option is to stay in a neighborhood right next to Casco Viejo. The larger hotel chains are closer to the center of the city.
Nicely decorated but simple rooms. Great value for money. Located in a slightly run-down neighborhood, rooms can be noisy.
Panama City
Selina Casco Viejo
Great location in the old town. Nicely decorated rooms with comfortable beds. Rooftop bar with a view of Panama City.
Day 3 – Panama City ➔ San Blas islands
A visit to the San Blas Islands is a must on your Panama trip! This archipelago consists of more than three hundred small islands with white sandy beaches and waving palm trees. Spend the night in a hut on the beach. Just getting there is an adventure in itself!
How do you get to the San Blas Islands?
An easy and popular way to visit San Blas is with an organized tour. You are picked up by 4×4 at your hotel in the morning and after a three hour long adventurous drive, you board a boat that takes you about half an hour to an island that you can call home for the next couple of days. We booked a 2-night, 3-day tour with Cacique Cruiser for $240 per person, which includes transportation, all meals and lodging.
Another popular but more expensive option is to experience the San Blas Islands aboard a sailboat. Expect to pay at least $500 per person for 2 nights on board a private boat with a captain! Check out BouMou Sailing or Sail with Mike's website for more information.
Day 4 – San Blas islands
Enjoy your stay in paradise! Visit several uninhabited islands, discover the underwater world while snorkeling or enjoy the peace and quiet in a hammock under a coconut palm.
Read all about our visit to the San Blas Islands.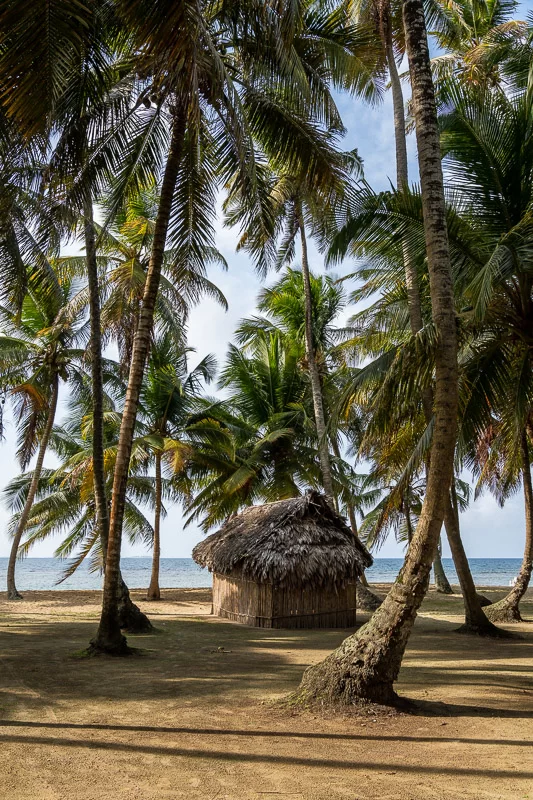 Day 5 – San Blas islands ➔ Panama City
Today you will say goodbye to the paradise islands and return to the "real" world. Depending on your organization, you will be dropped off at your hotel in Panama City in the early afternoon or evening. You can end the day with a cocktail at one of the nice rooftop bars in Casco Viejo, such as Selina's.
Day 6 – Panama City ➔ El Valle de Anton
It's time to leave the hustle and bustle of the city behind and get out into nature! El Valle de Anton, or El Valle for short, is a cozy town in the interior of Panama. It is located at an altitude of about six hundred meters, which makes it a few degrees cooler than the coastal areas of Panama. El Valle is located in the crater of an old volcano. You can walk up the walls of the crater and enjoy wonderful views from the top.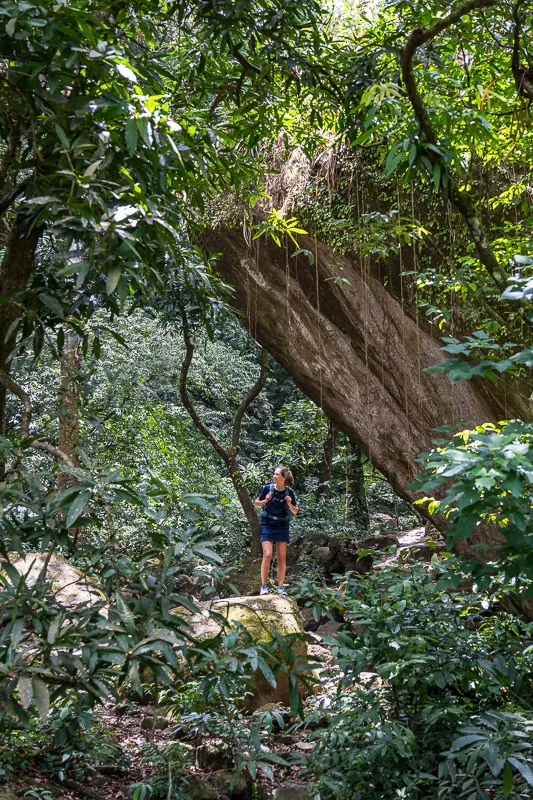 How to get to El Valle de Antón?
From Panama City, it's pretty easy to get to El Valle de Antón. There is a direct bus from Allbrook Mall. This bus leaves every half hour between 6:30 a.m. and 6:30 p.m. and will cost you $4.25. The whole ride takes about two and a half hours. Leave in the morning, so you can catch a hike in El Valle in the afternoon!
Buses leave from Allbrook Mall to all parts of Panama. You can read the destination of the bus at the top of the counters and buy a ticket there. You also need a RapiPass to get on the buses. This will cost you $2.00 + $0.10 for each person who has to go through the gate to get on the bus.
Day 7 – El Valle de Antón
In El Valle de Antón you come for the tranquility and nature! Most of the walks can be started from the center of the village. The most famous and beautiful hike is La India Dormida. It takes you through the jungle to the top of the crater rim. Don't forget to look up, you might even spot a sloth!
Discover our favorite hikes in El Valle de Anton
Accommodation in El Valle de Antón
El Valle de Antón has some nice hostels as well as some more expensive boutique hotels. We stayed at the Bodhi Hostel, which is popular with budget travelers. We can also recommend the following hotels.
El Valle de Antón
Bodi Hostel
Nice atmosphere, great breakfast with pancakes and fresh fruit! Excellent location. Shared bathroom.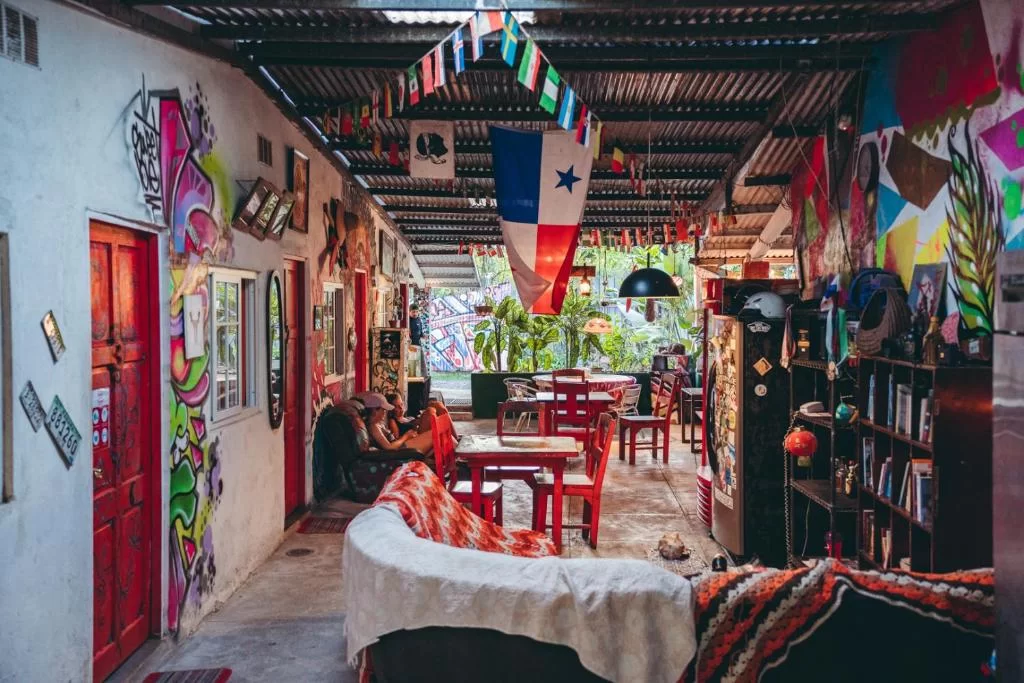 El Valle de Antón
La Casa de Juan
Great location, a little further from the center of town. Friendly staff. Free bikes.
Day 8 – El Valle de Antón ➔ Boquete
Today's agenda includes a lengthy bus journey to the charming town of Boquete. Boquete is located in the west of Panama, about 350 km from El Valle de Anton. To get there you will have to take four different buses, but thanks to the excellent bus connections this is no problem! Expect a total travel time of about 8 to 9 hours.
How do you get to Boquete?
Trip 1: El Valle de Antón ➔ Las Uvas
In the center of El Valle de Antón, take the first bus to Panama City or San Carlos. Ask the driver to stop at Las Uvas, which is the stop on the Pan American Highway. The bus ride is about 30 minutes and the fare is $1.50. Pay cash when you get off the bus. These buses run regularly from 4am.
Trip 2: Las Uvas ➔ Santiago
At the bus stop in Las Uvas, wait for the bus to Santiago, which leaves (approximately) every half hour. Get off at the bus terminal in Santiago, which is usually the last stop. The trip costs $6 and takes about 2.5 hours. Again, you have to pay in cash when you get off the bus.
You can wait a little longer in Las Uvas for a direct bus to David. These run less regularly, but make the trip a little shorter and cheaper. A trip to David will cost you $13.00 and takes about 5 hours.
Trip 3: Santiago ➔ David
At the terminal in Santiago, buy a ticket for the bus to David. This will cost you $9. You can also buy some snacks for the road or have lunch here. The bus ride from Santiago to David will take about 3 hours. Get off at the bus station in David. This is the last stop.
Trip 4: David ➔ Boquete
Again, buy your last bus ticket at David's bus station. For $2 you will be in the center of Boquete in about 45 minutes!
Day 9 + 10 – Boquete
When you say Boquete, you say jungle. Located in northern Panama, Boquete is surrounded by rainforest and is perfect for adventurous hiking and other outdoor activities. It is much cooler than the rest of the country because Boquete is located at an elevation of more than 1,000 meters. Some popular hiking trails are The Lost Waterfalls Trail, The Pipeline Trail or El Pianista Trail.
Read all about what to do in Boquete.
Staying in Boquete
In downtown Boquete you will find a few decent hotels, close to restaurants and the departure point for the minibuses that take you to the trailheads. Don't wait too long to book your stay in Boquete, as the most popular accommodations fill up quickly, especially in high season!
Beautiful modern rooms. Nice atmosphere. Quiet location yet in the center of town.
Palo Alto, Boquete
Bambuda Castle
Popular with backpackers. Castle on a hill just outside the village, surrounded by coffee plantations.
Day 11 – Boquete ➔ Bocas del Toro
Time to leave the jungle behind and head back to the coast. Bocas del Toro is an archipelago in the north of the country, on the Caribbean coast. There are dozens of islands full of beautiful beaches, authentic fishing villages and caves.
Getting from Boquete to Bocas del Toro
Shuttle service
A very easy and comfortable way to get to Bocas del Toro is by shuttle bus. These vans will pick you up at your hotel and take you directly to Bocas del Toro. With Hello Travel Panama you can get to Bocas Town in 5 hours for $30 per person.
Public transportation
A little bit cheaper, but also a lot more complicated way to get to Bocas del Toro is to use the public transportation system. For just under $20 you will arrive in Bocas Town after 6 hours and two buses, a taxi and a boat ride.
In downtown Boquete, take a bus to David. This trip takes about 45 minutes and costs $2. Buses run every half hour between 6am and 7pm and leave from Boquete Central Park.
At the bus station in David there are rows of buses waiting for you. Look for the bus to Almirante. A ticket will cost you $10. After about 4 hours you will arrive at the bus station in Almirante.
From the Almirante bus station, take a taxi to the Almirante Docks. This is a short ride of about 10 minutes and should only cost you $1. Before you get in, ask for the price to make sure they don't overcharge you! From the port, take a boat to Isla Colon, the main island of Bocas del Toro. A one-way trip will cost you $6. After about a half hour boat ride, you'll be at your destination!
Day 12 + 13 – Bocas del Toro
You will spend two days in Bocas del Toro, a town on the island of Colón. The atmosphere here is very relaxed and no one is in a hurry! Many cozy, trendy bars have popped up in the last few years and the place is full of taco joints. Take a bike ride to Starfish Beach, go island-hopping by water taxi, dolphin watching or snorkeling. A perfect place to end a perfect trip!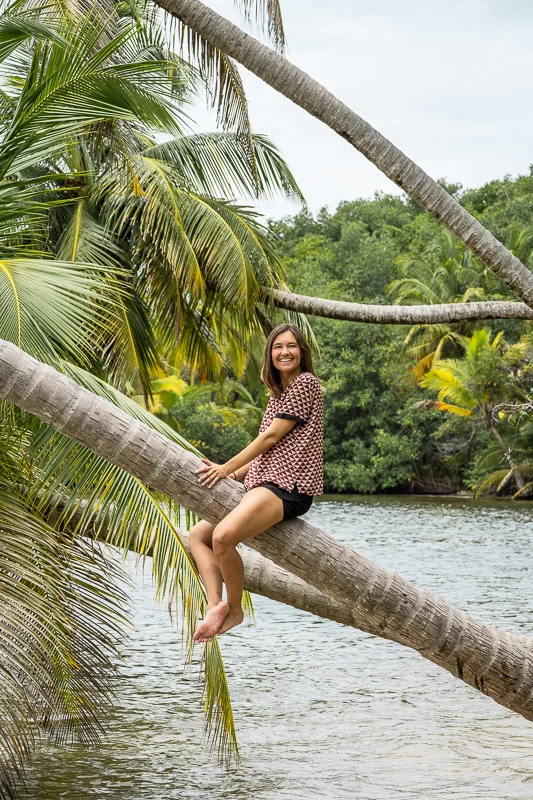 Staying in Bocas del Toro
You can choose to stay on the main island of Isla Colon, in the capital of Bocas del Toro. You will be close to most of the bars and restaurants and can easily take a water taxi to visit the other islands. Another option is to stay on one of the smaller islands nearby.
Bocas del Toro
Posada los Delfines
Good budget hotel in the city center. Simple but clean rooms. Nice breakfast. Friendly staff.
Bocas del Toro
Divers Paradise Hotel
Very central location, walking distance to water taxis. Ocean view. Lovely rooms
Day 14 – Bocas del Toro ➔ Panama City
Your trip to Panama is almost over. This evening you will catch your plane back home, but first you have to get back to Panama City!
The fastest but most expensive option is to take a domestic flight. Air Panama flies from Bocas del Toro to Panama Albrook Airport every morning. You can get a ticket starting at $80, or $130 with checked baggage. The flight takes an hour.
The cheapest way to get there is by bus. You can buy a ticket from one of the many agencies that offer tours in Bocas del Toro. For $40, they will arrange both the water taxi ride to Almirante and the bus ride to Panama City. Buses leave at 8 am. Expect a total travel time of about 11 hours. You also have the option of taking the night bus back to Panama City. They leave at 6pm, so you will be in Panama City by 6am.
Budget
Unlike some Central and South American countries, Panama is not a cheap destination. Of course, you can choose to make your trip as cheap or as expensive as you would like. So what is the average cost per person for a two-week round trip through Panama?
This estimate does not include the cost of airfare.
Accommodation in Panama
The cost of an overnight stay varies greatly from person to person and place to place. If you go for the cheapest option and sleep in a shared dorm, it will cost you between $10 and $15. A private double room in a hotel or hostel is a little more expensive, around $35 to $45 per room. If you are traveling with two people, the difference between a shared room and a private room is not that big.
On this trip, we stayed in a double room in a hostel each night and paid an average of about $40 per night. That's about $200 per person, not including the nights in San Blas and the night bus from Bocas del Toro to Panama City.
Transportation in Panama
Public transportation in Panama is generally well organized and very cheap, the roads are good and the buses run very regularly. Do not buy your tickets from tour operators, you will always pay too much. Go to the bus station on your own and buy your ticket on the spot. Expect to pay about $2 to $3 per hour you are on the bus. For example, a trip from Panama City to El Valle de Anton (2.5 hours) will cost you $4.25, or from Santiago to David (3 hours) $9.
In Panama City, Uber is a convenient way to get around. In other parts of the country, only local taxis operate. Expect to pay about $3 to $4 for a 15-minute ride. There are also often collectivos, local vans that follow fixed routes. These often charge no more than $0.50 for a 30-minute ride.
We spent about $150 per person on transportation on this trip. This includes transfers to/from the airport, taxis and local buses, transportation between locations, and the night bus from Bocas del Toro to Panama City.
Food and drink in Panama
Eating in restaurants and shopping in supermarkets are not cheap in Panama. Supermarket prices are comparable to those in the United States, and the price of dinner in a restaurant is about $15 to $20 per person. An easy way to save money is to prepare your own meals at the hostel. Sometimes you can also get a delicious lunch for cheap at roadside stands, such as a deluxe hot dog for $2 along the Cinta Costera in Panama City.
We spent an average of 20 to 25 dollar per person per day on food and beverages, eating in restaurants almost every evening. So a total of about $325 per person.
Activities in Panama
You can do a lot of things in Panama on your own, but you can't avoid an organized tour. The trip to the San Blas Islands is not to be missed, but it is also the most expensive activity. We paid $240/person for 3 days and 2 nights, including transportation, lodging, food and drinks! Some hikes in Boquete or El Valle de Antón, for example, require an entrance fee. This can range from $2 per person to as much as $10 (Lost Waterfalls Hike). Renting a bike in Bocas del Toro or Panama City costs an average of $10 to $15. A half-day tour, such as a trip to Cayo Zapatilla in Bocas del Toro, costs about $30.
During this trip we did a day tour in Bocas del Toro, rented bikes several times and hiked regularly. We paid just under €100 per person. Including our trip to San Blas, we spent about €325 each.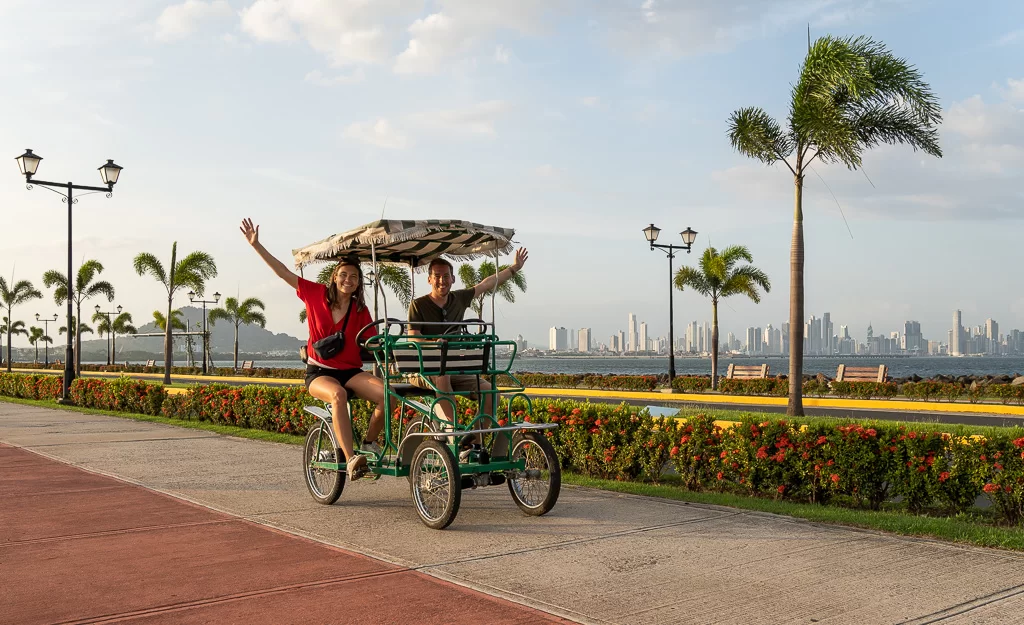 Practical
Best time to travel
The climate in Panama is tropical. It is almost always nice and warm but humid, with temperatures around 30°C. Panama has two seasons. The dry season runs from mid-December to early May, and the rainy season runs from March to November. Not surprisingly, December through April is the best time to travel to Panama. The busiest time is around the holidays in December.
The dry season does not mean no rain. In Panama, a tropical downpour is never far away!
Travel documents
To travel to Panama, a United States passport is sufficient. Your passport must be valid for at least 3 months when you enter the country. You are allowed to stay in Panama for a maximum of 90 days. Officially, you also need proof of departure (e.g. plane or bus ticket), but in practice you will not be checked for this.
Paying in Panama
In Panama, you can pay with U.S. dollars or Panamanian balboas. The dollar and the balboa have the same value and are used interchangeably. The balboa is only available in coins, no bills.
Make sure you always carry enough cash; in many places you will only be able to pay with cash. ATM's are available in most places in Panama, but not in remote areas such as the San Blas Islands.
Tipping is common in Panama. Restaurants sometimes add the tip to the bill automatically, so be careful not to tip them twice! A 10% tip is common.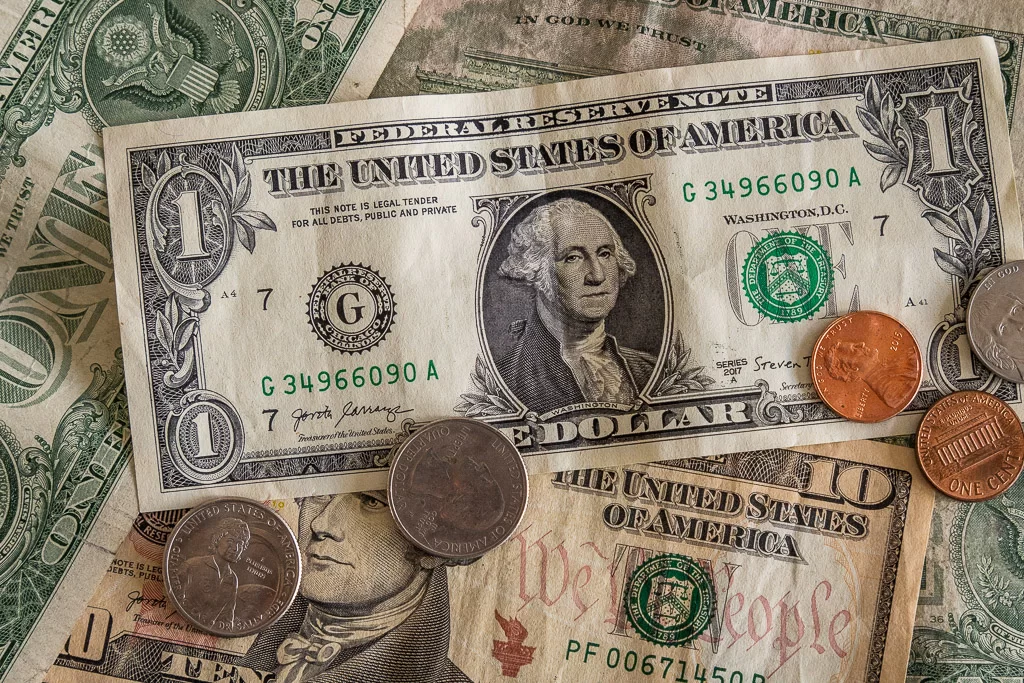 Mobile internet
You will be able to use the cell phone network in Panama just fine with your American smart phone. By far the cheapest way is to buy a local SIM card. Do not buy it at the airport in Panama City, the prices there are way too high. We bought ours at the Albrook Mall in Panama City, but there are many phone stores in the city where you can buy cards. The prices are about the same. For $10 you can get a card with 14 days of unlimited data.
We bought a SIM card from Claro, but with this provider you have no reception on the San Blas Islands! So although we enjoyed several days without internet on an uninhabited island, it is best to buy a SIM card from +Movil or Digicel.
Electricity
In Panama the power plug sockets are of type A and B, and the standard voltage is 110V. This is the same as in the United States, so you won't need a travel adapter. However, a universal travel adapter can be useful if, for example, you want to charge multiple USB devices at the same time. We've been using this travel adapter for a while now and can highly recommend it. You can instantly charge a number of USB devices simultaneously with it, so you're not constantly looking for that one extra outlet!
Need More Information? Read all our travel tips for Panama here or visit panamavoorbeginners.com for more practical information.