A big but incredibly charming ebb and flow of chaos. That's Amman, the capital of Jordan. Founded in a valley between seven hills, Amman has grown into a metropolis that sprawls over no fewer than 25 hills. There are plenty of attractions for an exhilarating day of exploration, but an extended stay isn't necessary. A great way to start your journey through Jordan!
Rainbow Street
This colorful street is the ultimate tourist hotspot in Amman. It's filled with trendy cafes, restaurants, charming souvenir shops, and many hostels and hotels. You can escape the hustle and bustle of downtown Amman, which is just a stone's throw away. So take a leisurely stroll and enjoy the laid-back atmosphere.
Not surprisingly, some of our favorite spots are in this neighborhood. An absolute must is the Shams El Balad restaurant, where you can enjoy lunch or dinner both inside and outside in a beautiful setting. Sufra is also a very nice restaurant with an excellent menu, but space is limited, so it's best to make a reservation. Finally, the view from Cantaloupe, the rooftop bar, is excellent.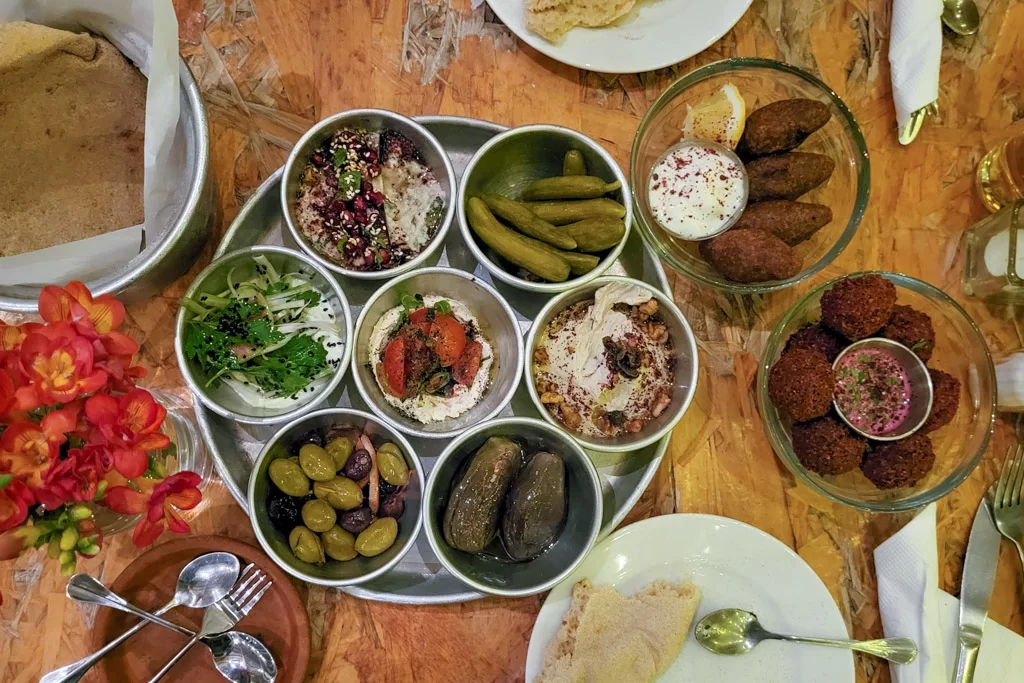 Are you visiting Amman during Ramadan like us? Then it's not always easy to find something to eat during the day. The restaurants mentioned above also only open after Maghrib, the sunset prayer. However, we found a place where we could still enjoy a delicious brunch: Cozy Casa.
The Citadel
The Citadel is the number one tourist attraction in Amman. It's essentially a large archaeological site on a hill that offers a panoramic view of the entire city. The excavations are far from complete, so new ruins from the Roman, Byzantine, or early Islamic periods are regularly discovered.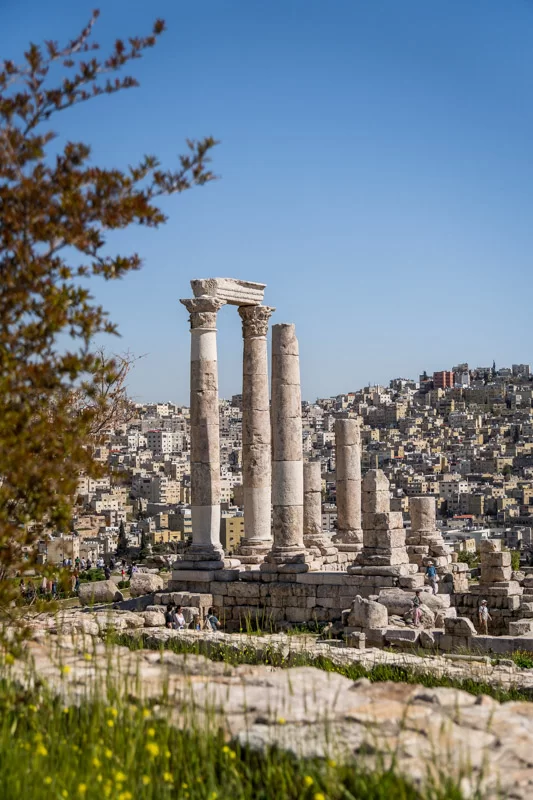 The most beautiful discoveries are undoubtedly the Temple of Hercules and the Umayyad Palace. You can't miss them! More subtle is the Hand of Hercules, part of what must have been a gigantic statue in the past. Be sure to look for it and let us know how it was, as we only read about it after our visit, much to Robin's disappointment.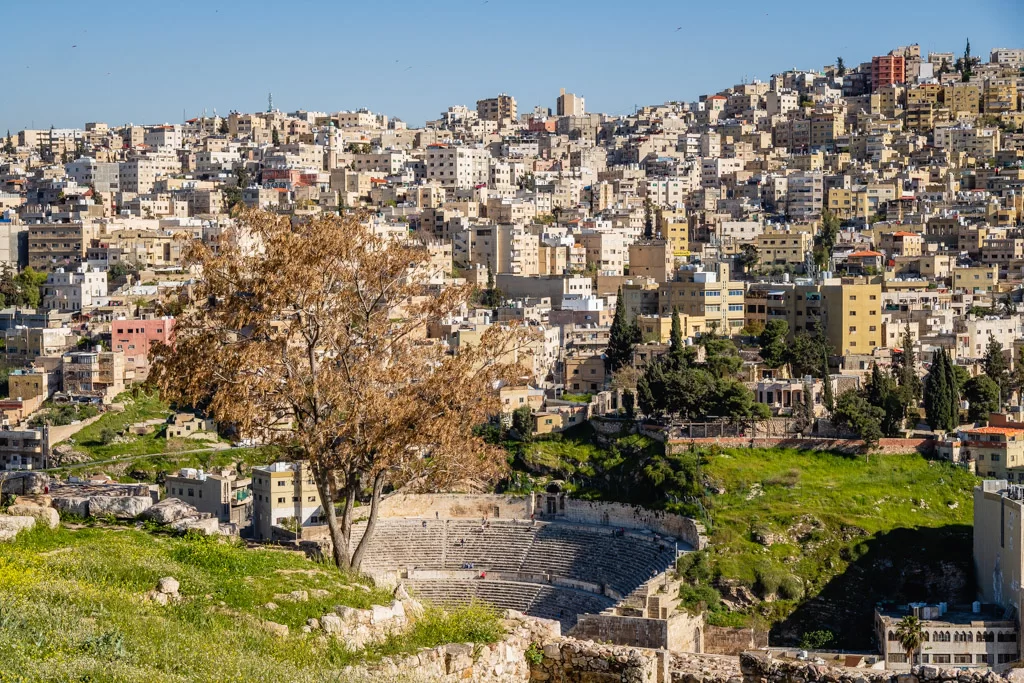 Access to the entire site is included in the Jordan Pass.
The Roman theatre
Also much visited (and rightfully so) is the exceptionally well-preserved second-century Roman amphitheater. It can hold up to six thousand spectators and is still used for performances today. The entire structure is designed so that when an actor speaks at the center of the stage, his voice can be heard by the entire audience without amplification. However, today's traffic and large crowds of tourists make it a challenge to test this. In front of the theater is a large square, or forum, which has served as a marketplace for centuries.
A visit to the Roman theater is also included in the Jordan Pass.
The King Abdullah I mosque
The number of mosques in Amman is countless, or so it seemed as we heard the chants echoing from all sides of the city. We always found it so atmospheric!
We wanted to visit a mosque, which isn't always easy for non-Muslims. However, tourists are welcome in the city's largest mosque, the King Abdullah I Mosque. It's a newer construction from the 1980s with a large blue dome made of mosaic tiles.
If you want to visit this mosque, you must first stop at the souvenir shop, where you pay 2 JOD (€ 3.8) per person and, if you are a woman, you will be given a loose-fitting dress with a hood. Wearing long pants or sleeves or covering your hair with a scarf is not enough.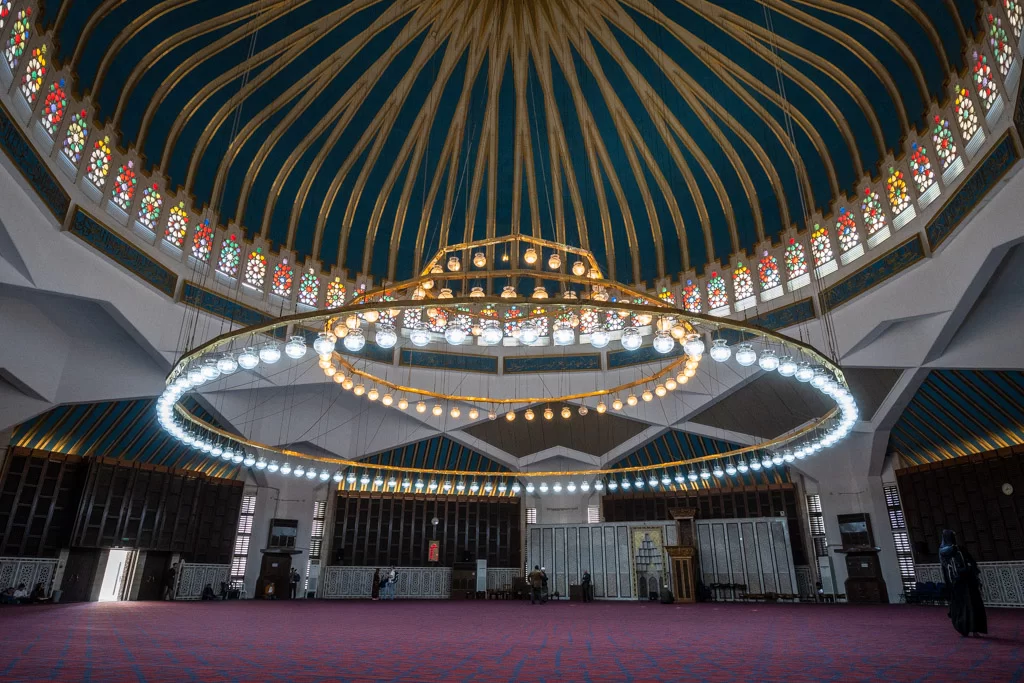 This is certainly not the most beautiful mosque we've ever seen, but it's something special to enter the octagonal prayer room and watch a service from the sidelines. Men enter from all sides, barefoot, to pray together. In total, there is room for five thousand worshippers!
Scents and colors of the souks
A visit to any Islamic city is not complete without a stroll through the souks. It's a discovery in itself, as the hustle and bustle and wealth of impressions are unparalleled in the Western world! Amman also has a number of souks that are delightful to explore.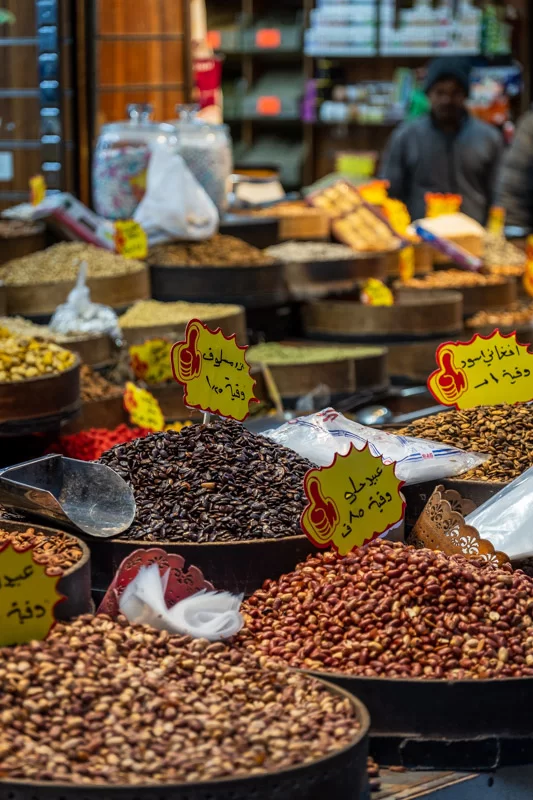 A self guided walk in Amman
Many of the attractions in downtown Amman are within walking distance of each other. With our walking tour, you won't miss any of the sights in the old city.
placeswithoutdoors.com
A self guided walk in Amman
How to get to Amman?
If you're traveling to Jordan, you'll most likely arrive at Amman International Airport by plane. Ignore the 45 taxi drivers approaching you and buy a ticket for the bus into the city for JOD 3.3 (€ 4.25). You'll find the small ticket counter just outside the doors of the arrival hall, and a few meters away the yellow line bus will be waiting for you.
This bus will take you to the Seventh Circle in half an hour. Amman is divided into eight 'circles', which refer to different major intersections. The old center with most of the attractions is located at 'First Circle' on Rainbow Street, but the bus doesn't go all the way there. From the Seventh Circle you can continue your journey by taxi or Uber. The Uber ride will cost you less than 3 JOD (€3.8) and takes about fifteen minutes.
We recommend that you get a Jordanian SIM card at the airport. This way you can start using the Uber app right away. You can choose between two reliable operators: Zain and Orange. The cost for two weeks, including 15 GB of data, is around JOD 15 (€19).
Where to stay in Amman?
Amman is large, but most of the attractions are located near Rainbow Street in the Jabal Amman neighborhood. This trendy area, full of restaurants and bars, is the perfect starting point for a day exploring Amman.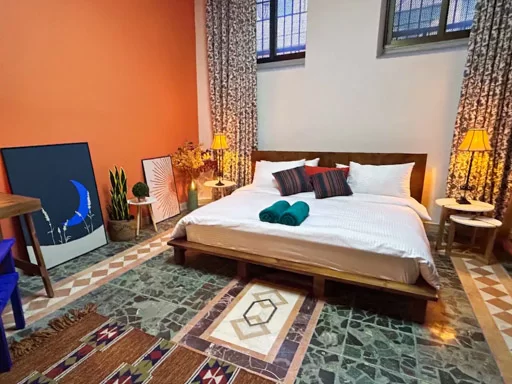 Jabal Amman
Medusa's Guest House
Beautifully decorated Airbnb with private bathroom and shared living room. Large and cozy terrace overlooking the citadel. Very close to Rainbow Sreet.
Trendy hotel with simple double rooms and dormitories. Great location, close to Rainbow Street. Enjoy a great breakfast and a rooftop terrace overlooking the city.